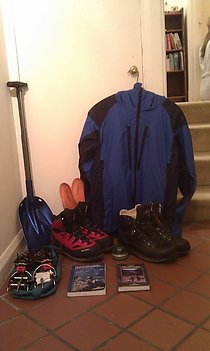 I'm clearing out so grab a bargain! All prices are posted, payment by Paypal goods or cash on collection in Brighton.
Raichle All Degree Pro SL B3 boots (the red pair), size 9.5 with original & Superfeet insoles. £90
Worn for about a week in total, I intended to get into winter climbing but mountain biking has taken over somewhat. Here's the blurb: "The All Degree Pro SL GTX top of the range mountain boot from Raichle is feature packed to provide you with outstanding performance in a variety of conditions and terrains. Microfibre carbon Dropstop textile fabric inserts are highly abrasion resistant, tear-proof and work to keep weight to an absolute minimum. Raichle's Motion Control in the ankle provides distinctive support, precise guiding and comfortable flexibility while a GORE-TEX lining ensures waterproof performance and breathability. The Vibram sole provides unbeatable grip, and this mountain boot is also crampon compatible for easy switching between icy and rocky surfaces."
CAMP Vector semi rigid crampons, a bit worn but sharpened and the front anti balling plate on the left is a DIY EVA foam/duct tape affair which although not pretty works fine hence £30.
Currently set up as mono (forged front points). They fit the Raichles well, adjust easily and are 1076g for dual points so not lardy. These are pretty similar to a cramp-o-matic G14 and just 11g more. Spare ABPs and front points are available online. Old skool crampon bag included.
Meindl Vakuum boots, size 9.5. £70.
Non GTX, memory foam equipped boots which are stiff enough to take a C1 crampon (they're not rated but hold a CAMP Magix 10 just fine). They come with a fresh pot of Meindl sport wax. Lots of life left in them, I've got some size 10s now.
Black Diamond Transfer snow shovel. £30.
Not used, but packed so some minor marks to the anodising on the blade. It telescopes into itself and detaches to pack smaller, comfy handle.
Furtech Claw 1 Jacket, medium. £80.
Very much like Paramo fabric but with loads of features and a more athletic cut (Google Furtech for more).
Thanks for looking!
My email's shameer AT gmx DOT co.uk if you'd like to know more.