| | |
| --- | --- |
| | / Alpkit Delta lightweight tent |
This topic has been archived, and won't accept reply postings.
I don't know if anyone else has taken the plunge - see their website:
http://www.alpkit.com/shop/cart.php?target=product&product_id=16865&category_id=253
10 out of 10 for integrity Alpkit. I am happy to recommend your stuff.
I pitched one for the first time yesterday and I think the problems are easily solved:
1. Make sure the main pole ends are angled as vertical as possible by shortening the distance between them using the available adjustment.
2. Fully tension the inner at the same points using the available adjustment.
3. Tension the 'too flappy' inner by linking the inner tent 'back door' loop (the thing you roll the door up with) to the outer tent 'back door' loop - I used some 2mm cord.
This achieves reasonable and I think sufficient separation of inner and fly. If not..we'll see - I don't think single hoop tents can be expected to stay perfectly dry in very exposed wind and rain conditions. I'd probably have the back up of a lightweight bivvi bag available (replaces a survival bag) to keep my sleeping bag dry anyway.
More reliable separation at the ends of the tent would be achieved by stitching together about 4-5cm of seam at the ends of the inner where the groundsheet meets the inner tent fabric. An easy job but I'll hang fire just yet.
A bargain at £60 and once they've got the gliches sorted out you'll have to pay a lot more. I'm not sure what Alpkit mean by lightweight features compromising durability. Poles and fabric look good quality.
Ditch the pegs for 10 Ti-Pins.
Due to a glitch on the website (or my cluelessness) I accidentally bought 2 and just debating whether I send the other one back or not. I'm hoping one of my mates wants one.
In reply to
Nigel Modern:
Hi Nigel
The comment about about lwt features compromising quality is simply to point out that as soon as you start using smaller zips and lighter fabric the product is going to be far from bullet proof. All the materials are first rate just light and as a result less durable.
We have gone back to the drawing board with this product if only to spend more nights in the competition to see what we are up against.
Cheers
Nick
In reply to
Nigel Modern:
"I don't think single hoop tents can be expected to stay perfectly dry in very exposed wind and rain conditions."
I used a Phoenix Phreeranger for about 10 years in Scotland, over many, many nights in all types of weather including plenty of windy and rainy ones, never an issue with rain or condensation.
Tent material eventually gave up the ghost but I've always gone for single hoop tents ever since, none have ever lived up to the Phreeranger.
Definitely an area of tent design that has never been bettered. Don't know why someone doesn't just use an old design that worked....
In reply to
Nigel Modern:
There will be a load of people with fat wallets coming on soon to comment on how their Hilleberg Aktos only have one pole and are supper strong.
In reply to
jjmacewan:
I have a Phoenix Phunnel tent that I bought in 1986 and it's still going strong! Been all over the UK, the Alps at least 10 times and the Himalyas 3 times. Was rock solid at 22,000 feet in a full himalayan storm. Phoenix made the best tents ever, shame you can't buy them any more. Although after 27 years it's still doing the business so no reason to change!
Andy

In reply to
Alpnick: Thanks Nick...I'd guessed it was zips the light materials but they are no less durable than other lightweights. That isn't how the website reads though, I think you are selling yourself short.
No doubt version 2 will pass muster and compete with the Hillebergs and the Phreerangers...I thought I'd get some comments about waterproofness. On a rough night high up I think I'd still use a bivvi in a lightweight...in case it blows down.
Just out of interest all you Hillebergers etc - do you find single hoop designs in big winds deform and collapse on you, then spring back with a flapping noise?
One thing I like about the Khangri I have is that the 4 hoop design means it's stable and relatively quiet in a big wind....lots of zzzz. The ME Dragonfly achieves this too with 3 poles and less weight but with much less space. Had to give it back to my daughter tho' - I had hoped she'd forgotten.
---
This topic has been archived, and won't accept reply postings.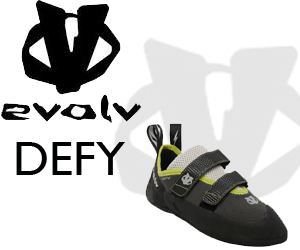 Elsewhere on the site
Perhaps the perfect Xmas gift for the climber in your life... Wild Country's Crack School has two of the worlds best crack... Read more
141219
0
F ounded in 1993, Mountain Hardwear are a pretty young mountaineering clothing and equipment manufacturer but are also one of... Read more
141216
0
Rock shoes stink – let's face it. Boot Bananas are the perfect way to fight the funk and keep them fresh. They help... Read more
141219
0
Tonight's Friday Night Video features the Norwegian town of Rjukan, once believed to be the home of the world's tallest... Read more
141219
0
At a bar in Llanberis an old man chimed in And I thought he was out of his head Being a young man I just laughed it off When... Read more
141203
0