| | |
| --- | --- |
| | / Radios on Denali |
This topic has been archived, and won't accept reply postings.
Planning an independent trip to climb Denali by a couple of routes and trying to work out what the best solution is for radios out there to be able to commutnicate between teams and critically listen to the weather.

Can they be hired or should we just buy a couple of sets in the REI Anchorage? And if so which ones for best performance? Also has anyone had any dramas with licencing of GMRS radios as I'd like to go down that line to get more power and therefore range?

Cheers,

Theeni
In reply to
Theeni:
Hi,
Havent been up denali but also have an expedition planned this year with a few mates. Ive read up a wee bit on this. Some of the talkeetna aircraft companies hire out radios. Rangers and everyone else now use family radio system channel rather than cb. There are weather forecast broadcasts at 8am every morning through this. A sat phone is also recommended and i reckon could be hired.
The mountaineering in denali ebooklet issued by the rangers has some pretty useful info. Although, i still need to learn how to rig a sled for hauling!:)
hope that helps, and maybe well see you on the mountain end of may to june
Jon
Theres lots of info in
In reply to
Withnail:
Cheers John I'll have another dig into the NPS booklet. We are likely flying with TAT and I hadn't seen anything about hiring radios from them. Where did you see about hiring from glacier pilots.
Sat phone is sorted
Henry
In reply to
Theeni:
I climbed Denali last year.
Having one Radio in your group is essential for listening to the weather. I'd only take one in the team though as you'll already have enough stuff to lug up the hill!
We used some basic radios that TAT sold us (You are flying with TAT right?) you can buy them cheaper in REI though so I'd probably do that or borrow one from someone in the UK.
What are your plans for out there?
Message me if you want any more Denali beta.
Cheers,
Tom

In reply to
Theeni:
Hi Henry,
I cant remember where I read about hiring from the flight companies-this is mainly because I am a buffoon with significant short term memory loss. Suggest you give TAT an email and ask them, im sure if they dont theyll be able to point you in the right direction.
Its looking like we might do all that stuff through "exposure alaska"-just google them. For a very reasonable price they can organise-pick up from anchorage,a nights accomodation,van transport around anchorage for extras, wands, sleds, transport to talkeetna, ranger briefing, flight from talkeetna, gas, food for the expedition etc. For us this is a good idea as they can get you from anchorage and onto the airstrip at talkeetna the next day which gives you a good chance of hitting a weather window for the flight to the glacier.
hope that helps
Jon
---
This topic has been archived, and won't accept reply postings.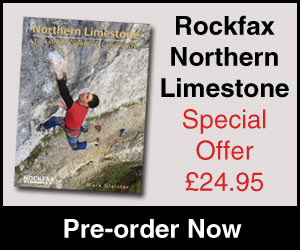 Elsewhere on the site
Tonight's Friday Night Video features the Norwegian town of Rjukan, once believed to be the home of the world's tallest... Read more
141219
0
Rock shoes stink – let's face it. Boot Bananas are the perfect way to fight the funk and keep them fresh. They help... Read more
141219
0
Perhaps the perfect Xmas gift for the climber in your life... Wild Country's Crack School has two of the worlds best crack... Read more
141219
0
With four photos in this week's top ten, and a UKC gallery of stunning images we thought it was time we had a chat with... Read more
141203
0