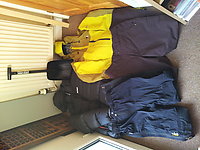 Hi
All gear below has been well looked after. All clothing will have a fresh wash / reproof before posting (apart from down jacket!)
Prices are the ideal, but willing to negotiate.
Payment by Paypal or Bank Transfer.
Mountain Equipment Tupilak II Gore-Tex Pro Shell Jacket
Two-tone Green
Men's XL
£130 inc RMSD

Great jacket, just no longer suits my needs.
Small mark on right side by the hip - didn't come out in the last wash!
Link to current model (just different zips):
http://www.mountain-equipment.co.uk/the_gear/clothing/waterproof/tupilak_jacket---564/
RRP on the latest model is £300

Alpkit Filo Down Jacket
BRAND NEW!
BLACK with grey trim
Men's XL
£95 inc RMSD

Won in a competition just before Christmas.
Tried on a couple of times, but for me, I'm always going for synthetic over down.
GRAB A BARGAIN!!
Product page here:
http://www.alpkit.com/shop/cart.php?target=product&product_id=16936&category_id=298
RRP is £120

Rab Latok (not Alpine) Waterproof eVent Trousers
Black
Men's XL
£85 inc RMSD

These are the trousers to match the top of the range Rab Latok winter climbing jacket.
Absolutely bombproof, despite a hammering, they look virtually new.
Reinforcement patches around the ankles, knees and bum.
Side zips that run from the ankles, up and around the bum to allow drop seat, as well as venting options.
Belt loops and options for braces too, these have it all.
There are a few scuffs on the reinforcement panels, but nothing penetrated and LOADS of life left in 'em.
Sadly no longer made by Rab, but the salopette version is pretty similar:
http://rab.uk.com/products/mens-clothing/leg-wear/latok-salopettes.html

Patagonia Alpine Guide Pants
Chocolate Brown
Men's XL
£70 inc RMSD

Great pair of pants, but far too warm for anything I'm likely to do any time soon. Ideal for alpine or scottish use.
Link to newer version of them here:
http://www.patagonia.com/eu/enGB/product/mens-alpine-guide-pants?p=83950-0-961
RRP is £170

Life-Link 3D Pro Snow Shovel
£20 inc RMRD

Plastic blade with lightweight metal retractable shaft and plastic handle.
Well used, but plenty of life left in it. Only selling as I want a metal shovel.
Link here:
http://www.garmontusa.com/garmont/3d-pro-shovel.html
Thanks for looking and if you have any questions, please ask.