| | |
| --- | --- |
| | / Adidas Terrex Pros with perscription? |
This topic has been archived, and won't accept reply postings.
Hello,

I've got an opportunity to buy a pair of Adidas Terrex sun glasses for a good price.

Unfortunately I've got poor eyesight. I understand you can buy a perscription insert for these glasses.

Does anyone know if it is possible to buy the prescription insert separately and have any idea of how much it cost?

Cheers,

Tom
In reply to
Captain Gear: I have got some with a prescription insert. I was told when I got them (in Chamonix) that if my prescription changed they could send me another insert so it must be possible.
I really appreciate having the insert but I use it as a back up for my contact lenses. It takes maybe an hour or two to get used to the slightly different perspective (although that could be an issue with my insert). Also, when wearing them in goggle mode the lens just in front of the insert did not de-mist very well, making it hard to see. Still, I really appreciate having them and knowing that if a lens falls out then I will still be able to see.
In reply to
Captain Gear:
I've had various Rx inserts for use in safety glasses and respirators over the years. TBH I don't reckon much to inserts when compared against glasses with prescription lenses.

In reply to
Captain Gear:
What are you going to use them for? I had a pair of Adidas evil eye with haed band thing with rx inserts and they were pants. I bought them for a desert marathon and ran/trained a lot in them and they kept steaming up.
The soft surround with the air vents in them are really not good if you are doing anything other than lounging about, my opinion of course.It is all to do with the shape of the insert and the shape of the glasses, being curved it Isn't really a smart idea, just a bit of a gimic. If you want to, best to buy some Oakleys that you can have made up with different lenses and your rx rather than an insert, not cheap but a better option.
I ended up using my military issue ESS Advancer sunglasses with their rx insert and they were the dogs nads. Why I forked out for the Adidas ones is beyond me.
---
This topic has been archived, and won't accept reply postings.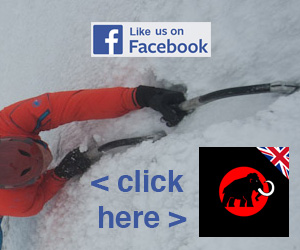 Elsewhere on the site
Tonight's Friday Night Video features the Norwegian town of Rjukan, once believed to be the home of the world's tallest... Read more
141219
0
Rock shoes stink – let's face it. Boot Bananas are the perfect way to fight the funk and keep them fresh. They help... Read more
141219
0
F ounded in 1993, Mountain Hardwear are a pretty young mountaineering clothing and equipment manufacturer but are also one of... Read more
141216
0
Perhaps the perfect Xmas gift for the climber in your life... Wild Country's Crack School has two of the worlds best crack... Read more
141219
0