| | |
| --- | --- |
| | / Gri Gri 2 no CE Mark |
This topic has been archived, and won't accept reply postings.
Can anyone explain why the Gri Gri 2 does not carry the CE Mark? I know it carries the UIAA label meaning it meets UIAA 129 and carries the "pending review" EN code 15151(based on UIAA129) so the standards bit is well covered but as I understand both mountaineering equipment and / or PPE traded within the EU should carry the CE mark.

As a Gri Gri 2 does not carry the mark should it pass a PPE inspection? or the bigger question is it PPE at all? If a descender yes, if a belay device no as I understand it.


In reply to
Simon Cahill:
Belay devices are category 0 under the directive which means there aren´t any standards and they aren´t really PPE.
It is somewhat confused/ing but only equipment can have an EN standard and belay devices don´t function without human intervention and thus they lie in a sort-of no mans land (leaving aside whether your Grigri will function without your intervention which is a bone of contention regarding the rubbish UIAA proposals).
There are other items which don´t get CE marked, bolts for one as they are not "personal" but they still have to pass EN959.
Here´s the appendix covering this
http://ec.europa.eu/enterprise/sectors/mechanical/documents/guidance/personal-protective-equipment/a...
In reply to
jimtitt: Hi Jim. So I see two issues here, The CE mark and standards. I understand under the directive belay devices are category 0 and I've seen nothing to suggest that will change. Although (separate to the directive) there is now pn15151 which covers belay devices.
Extract
"This European Standard specifies safety requirements and test methods for braking devices with manually assisted locking used in mountaineering, climbing and related activities for belaying, with manually assisted locking function, to protect against falls from a height and/or for abseiling with speed regulation.This European Standard applies to braking devices which are loaded with one person and which use mountaineering ropes according to EN 892."
Ok lets park standards, it seems the the Gri Gri 2 as a belay device / descender is exempt from PPE so technically can't fail a PPE inspection, although I'm sure we will continue to include them in inspections and retire them using our judgement.
But what about trading in the EU, As you say bolts are not marked, nor are the nuts, washers, hangers etc but my microwave and kids toy hat are. What should be marked and what is exempt and why? I can find no clear information. Why would Petzl CE Mark the old Gri Gri and not the new? Maybe to save the expense of going to a Nominated Body (CE-0197) for independent testing? Could it be when the draft EN becomes final CE will accept the standard in leu of the NB inspection and as an interim action Petzl are not marking the Gri Gri 2 ? What are your thoughts?
In reply to
Simon Cahill:
First a bit of clarity for maybe anyone else reading this thread.
The "old" Grigri was stamped CE0197 which could mean several things. That the QC system operated by Petzl was oveseen by an nominated body (in this case TÜV Rheinland as denoted by the code 0197 after the CE mark) OR Petzl wrote their own standard and had this tested by TÜV Rheinland, both being effectively the same thing. Whether strength, braking performance, safety etc were considered one doesn´t know.
For the GriGri 11 Petzl claim certification to prEN15151 but since this standard has not yet been approved or issued this is rather optimistic if not misleading. The current status of prEN1515 is clear;- "Warning : This document is not a European Standard. It is distributed for review and comments. It is subject to change without notice and shall not be referred to as a European Standard."
Nobody cares much either way but it looks better on the advertising!
The interesting point is that the performance test for the GriGri requires hands-free operation so is void if you hold the brake strand, a difficult concept if you see what I mean! A climbing instructor for example is bound to instruct his pupils to use the device as per the makers instructions "...always hold the braking side of the rope" (Petzl) which is in direct conflict with the requirements for EN/CE certification and marking.
If you are a commercial user of belay devices you´d still have to inspect the equipment for function, suitability and wear, damage etc. Your car or minibus isn´t CE marked but you´ll still be liable if the tyres are bald and you kill a customer.
The following groups of products are covered by directives from the EU and come under the CE marking scheme:-
Active implantable medical devices
Appliances burning gaseous fuels
Cableway installations designed to carry persons
Eco-design of energy related products
Electromagnetic compatibility
Equipment and protective systems intended for use potentially explosive atmospheres
Explosives for civil uses
Hot-water boilers
In vitro diagnostic medical devices
Lifts
Low voltage
Machinery
Measuring Instruments
Medical devices
Noise emission in the environment
Non-automatic weighing instruments
Personal protective equipment
Pressure equipment
Pyrotechnics
Radio and telecommunications terminal equipment
Recreational craft
Safety of toys
Simple pressure vessels
All other products are not (and may not) be CE marked.
The current list of product groups and the relevant directives is here:,
http://www.newapproach.org/Directives/DirectiveList.asp
In reply to
jimtitt: Hi Jim. Thank you for a) clarifying the points for other readers, and b) providing the list. I will be watching development of pr EN15151 and it's application with interest. In the mean time inspections will continue as they have always done so.
In reply to
jimtitt: Now the brain cells are ticking away another question comes to mind. If the gri gri (I'm thinking the old one) is not PPE and does not seem to fall under any heading on the list for CE marking, what criteria did it meet or group did it fall into for CE marking?

In reply to
Simon Cahill:
Probably 3.4 Equipment for climbing, rock climbing, speleology etc. (ice-axes, hammers, descenders not fitted with a built-in speed-regulating system, rope-climbing equipment, etc.) since it is sold for use abseiling but a creative man could probably find another category like a door-stop for example!
---
This topic has been archived, and won't accept reply postings.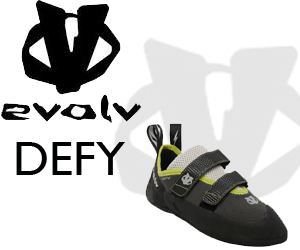 Elsewhere on the site
Perhaps the perfect Xmas gift for the climber in your life... Wild Country's Crack School has two of the worlds best crack... Read more
141219
0
F ounded in 1993, Mountain Hardwear are a pretty young mountaineering clothing and equipment manufacturer but are also one of... Read more
141216
0
Rock shoes stink – let's face it. Boot Bananas are the perfect way to fight the funk and keep them fresh. They help... Read more
141219
0
Tonight's Friday Night Video features the Norwegian town of Rjukan, once believed to be the home of the world's tallest... Read more
141219
0
At a bar in Llanberis an old man chimed in And I thought he was out of his head Being a young man I just laughed it off When... Read more
141203
0
---