| | |
| --- | --- |
| | / Winter Sleepingbag (down), Grivel G10 Crampons, C |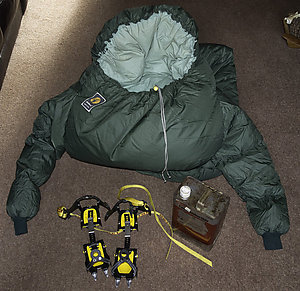 Winter Sleepingbag (down), Grivel G10 Crampons, Coleman Fuel
Photos:
http://www.flickr.com/photos/cragcay
I can post the sleepingbag and crampons, or all the items can be collected from near Lancaster or by arrangement at the Kendal Wall.
1) Pair of
Grivel G10 crampons
is very good condition, complete with antiballing plates.
Some of the paint has worn off and the odd mark on the plastic baskets, but no wear that affects their life. Therefore at
£60 (+P&P)
they're essentially £40 less than discounted price.
From Needlesport's website: "Excellent 10-point semi-flexible walking crampon (though someone has been spotted climbing a grade V ice pitch in them!) with simple no tools adjustment.

Fits boots from 37-45½ (flexible long bars are available).

These have the "New Classic" bindings: Superb all encasing basket system means that you can put this crampon on just about anything, though it is marginally more fiddly to fit than the other models. The best binding for most walking boots. It is fitted with a much more flexible bar that the other models."
2)
Winter Sleepingbag: £95 (+P&P)
This is a warm down bag with the incredible feature of having duvet arms! Perfect for getting the stove going in the morning or reading in bed without cold shoulders. (You pull your arms in to sleep nomally). It also has a well baffled short zip across the feet so you can walk around in it.
Made by Dormisacco in Italy. Box wall construction (stitched through arms only), generous foot box.
Weight 2kgs, Nylon outer, polycotton inner.
Although quite old, this sleeping bag has only been used for one winter ski trip to Lapland. The inner is slightly grubby (despite being used with an inner), but the loft and fill are still excellent. As well as camping, it would make a perfect bag for winter kipping in vans, cold climbing huts or winter trekking in Nepal, etc.
3)
US Gallon cans of Coleman Fuel
: US gallon (3.78 litres) of Coleman Fuel in their original and well sealed metal containers.
Again these are quite old and obviously date from a time when airlines were less fussy about handbaggage. However they are still totally sealed with the double airtight tops and the fuel I have used recently has been fine. The containers themselves show signs of being stored in the shed and are covered in a waxy protective coating.
I have 3 or 4 cans and they have to be worth
£10 each
. Collection only from near Lancaster or sometime at Kendal Wall by arrangement.
In reply to
Jim Lancs:
Is your sleeping bag still available?
In reply to
Jim Lancs:
I would really like this bag for next weekends trip to Scotland. If it s still available, could I collect it on my way from Leeds? Where are you located?
Sleepingbag has now sold and one can of fuel.

Walking crampons and two cans of fuel still available.
Crampons have now sold, thank you.
---

Elsewhere on the site
PowerFingers is a simple, easy to use product which is incredibly effective for Climbers who require finger strength and... Read more
141222
0
Perhaps the perfect Xmas gift for the climber in your life... Wild Country's Crack School has two of the worlds best crack... Read more
141219
0
At a bar in Llanberis an old man chimed in And I thought he was out of his head Being a young man I just laughed it off When... Read more
141203
0
Will Sim and Andy Inglis have made the second ascent of VIII,9 on Ben Nevis, followed by Will making a rare... Read more
141222
0