Click to view latest messages in all forums

Premier Post - Citroen Dispatch - simple conversion
by - jdaynes
on - 01 Feb 2013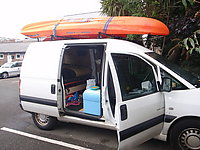 2005 "05" Reg Citroen Dispatch 2.0HDI 900KG - 110,000 miles with a full service history, it will be sold with a full service and two new front tyres. £2200

http://www.flickr.com/photos/87635668@N05/sets/72157632663750801/ - More pics to follow.

Air con
3 seats
CD Player
Central locking - needs a new battery if you want to use the remote
Around 40-42mpg on a long run to Font. Pretty good for a van.
Powerful 110bhp diesel engine - no slugging up hills in this thing.
Spacious enough for a trip, yet small enough for day to day.

£2200

Regretfully selling my beloved van. I'm living in the Manchester and just not getting enough use out of it now.

I have built a very simple sleeping conversion in the back, enough space for two people to sleep comfortably using bouldering pads or a blow up mattress. I have a foam mattress topper that I used on top of my bouldering pads. Very comfy....

During the day this folds away. More than enough space for two people to sit in the back and watch DVDs on your laptop, cook or read on a rainy day.

The sleeping set up can fold away completely if you would like to use it as a normal van, leaving only the storage box at the front.

by - jdaynes
on - 02 Feb 2013
In reply to jdaynes: Sorry - I forgot to add contact details.
07793279473 or daynes_jon@hotmail.com
by - jdaynes
on - 11 Feb 2013
In reply to jdaynes: Now fully serviced and ready to go... Word for word comment from the mechanic 'good van that, nout wrong with it'
by - Frankie boy
on - 14 Feb 2013
In reply to jdaynes:
I have to say, we have a Pug Expert (same van) and just killed the engine, but that said, they're great vans and I wish I had the spare cash to buy this one.
---

[top of page] - [forums latest]