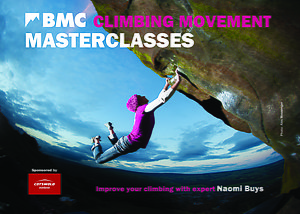 BMC CLIMBING MOVEMENT MASTERCLASSES - APRIL 2013
If you're looking to improve your rock climbing, indoors or out, then come along to the BMC Climbing Movement Masterclasses - run by top climber
Naomi Buys.
Sponsored by
Cotswold Outdoor
these excellent masterclasses will be touring the UK in April 2013. Naomi will cover climbing movement skills: footwork precision, economy of movement and the utilisation of existing strengths.
DATES & VENUES
North Wales
Saturday 13th April – The Beacon Climbing Centre
Swansea
Monday 15th April – Dynamic Rock
Plymouth
Wednesday 17th April – High Sports
London
Friday 19th April – The White Spider
Milton Keynes
Saturday 20th April – Big Rock
Durham
Monday 22 April – Durham Climbing Centre
Manchester
Friday 26th April – Rock Over Climbing
WHO ARE THESE CLASSES FOR?
The classes are for people who climb in the grade range of French 5 to 6b+.
COST
£26 per class for BMC members and £34 per class for non-members. Maximum of six people per two hour class.
BOOKING & FURTHER INFORMATION
Book through the BMC. Booking form and full information is here
http://www.thebmc.co.uk/masterclasses