| | |
| --- | --- |
| | / Re-soling Sportiva B3 Boots |
This topic has been archived, and won't accept reply postings.
Hi guys,

Have a set of Sportiva Nepal Extreme boots that have served me well over the years and I'm soon going to have to consider resoling them.

Does anyone have any knowledge of who or where does this? anyone done it before?

Cheers
Davie
In reply to
scottie390: I've not used them but I'm pretty sure Lancashire Sports Repairs will.
Col.
In reply to
scottie390:
Feet first in Chesterfield will do it for about £50 I think.
In reply to
scottie390: Hate to speak ill of them but had a poor experience with feet first. Told me my nepals would be done in a couple of weeks, ended up with them for over 2 months, not totally their fault but ended up having to buy a new pair for a pre planned trip. When I eventually got them back they looked good but have since experienced wet feet so presume they are leaking in somewhere. Whole experience cost me about £350 all told. Am sure from reports, others have been more than happy with them though, can only report my findings.
In reply to
scottie390: Got mine (Trango Extreme Evo's) done by Cheshire Shoe Repairs. A few months later I was on a route in the alps and noticed the sole was coming apart. For the next few days, I had to wear crampons constantly to prevent it getting worse. In a different situation, a sole coming off could easily lead to a very dangerous position. Cheshire shoe repairs - not recommended.
Went to some shoe repair place in Cham (can't remember the name but it's near to the midi lift), they stuck the sole back on for 12 euros, collected them later the same day, been great ever since. Recommended.
In reply to
scottie390: I had my SPortiva Nepal Extremes resoled at Feet First a few years ago. The sole unit was solidly fixed - no problems there - though I've heard of others (a mountain guide I know) having screws inserted to attach the sole and add additional strength.
My point would be that the shape of the boot can be changed in the resoling process. I found that the boots were no longer comfortable after re-soling, despite trying to break them in again. I sold them on and just about covered the cost of re-soling them.

Feet First in Chesterfield have always done my rock shoes and done a fantastic job, zero or minimum change of shape etc. I also took my summer alpine boots (B3) to them last year and they did a fantastic job on those as well. Spent a lot of time trying to source original mid-soles and outers, when they couldn't they really crafted a repair that has worked fine. If you have an issue with your boots, talk to them and they will help. They will also tell you if something isn't possible or not a good idea.
Lancashire Shoe Repairs. I have to be careful about what I say about them. I contacted Scarpa about a problem with a pair of their B3 boots, they told me to send them to LSR for repair under guarantee. The boots that came back were a disaster! (My physio told me the soles would have wrecked my knees, they were so out of line and uneven.) I rang Scarpa and they said they'd pay for them to be done at Feet First. Fine. Then the Director at LSR rang me at home and railed at me for 20 minutes. He was abusive and threatening and insisted that I had no right to complain to Scarpa. Only personal experience but......
---
This topic has been archived, and won't accept reply postings.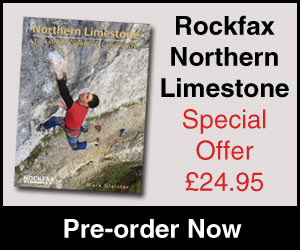 Elsewhere on the site
F ounded in 1993, Mountain Hardwear are a pretty young mountaineering clothing and equipment manufacturer but are also one of... Read more
141216
0
The release of Peter Jackson's new film The Hobbit: The Battle of the Five Armies on 12th December may not appear to link to... Read more
141212
0
Tonight's Friday Night Video features the Norwegian town of Rjukan, once believed to be the home of the world's tallest... Read more
141219
0
Perhaps the perfect Xmas gift for the climber in your life... Wild Country's Crack School has two of the worlds best crack... Read more
141219
0
Rock shoes stink – let's face it. Boot Bananas are the perfect way to fight the funk and keep them fresh. They help... Read more
141219
0
---