| | |
| --- | --- |
| | / PhotoFramer -Easily frame your climbing photos |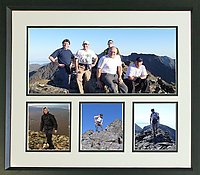 We've seen so many great pictures on UKClimbing.com. Now immortalise them with our easy print and frame service.
Choose your design, upload your pictures and choose your materials. Simple.
Receive 20% off using the code: UK20WERFDG
www.photo-framer.co.uk/ukclimbing
Get those climbing photos on the wall!

As more people take to the mountains, hills and crags around the UK, the digital photos that are being taken become more and more spectacular. Climbing the mountains in the early morning or at sunset give you the best available light possible for the best photographic shots imaginable. Whether you are a seasoned professional grappling at a highly rated graded climb or a novice who just loves to walk in the clouds the images gained from your trips outs are usually stunning and hold such great memories.

One such memory that is etched in to myself and my sons memory is a of a cold and clear February day in 2008, he was 15 and we spent an epic day on the Aonach Eagach ridge in Glencoe. Starting in the dark on freshly laid snow the 10 hour traverse was full of the fear and trepidation most of us climb mountains for, the reminiscing at the Kings house by a log fire with a beer and a Steak Balmoral capped off a wonderful day. This extra special day gave us such a bonding experience it will never be forgotten and has since been brought up many times in conversation.

The good news is we took loads of photos and as I am a framer managed to put together some great framed collages of the day out, over the years my collection of framed photos has grown enormously as I take on more routes and challenges throughout the UK. This gave me the idea for a website. Photo-framer.co.uk. although not just suitable for climbers it does work particularly well as a recording device of your climbing diary. The website lets you download photos and text which we print, mount and frame for you saving time and cost getting it done on the high street.

As a very special offer for subscribers of the UKClimbing.com website we are giving you a 25% discount for your first purchase. Visit www.photo-framer.co.uk/ukclimbing and use the code on that page when you check out.

Great days on the mountain always bring a smile to your face so get them printed and framed!

This is a really good service. Had them make up a collage of shots from last years trip to Skye. Made great gifts for the whole party.
In reply to
photoframer: Great idea and great service - thanks! Really easy to use and organise, and the results have brightened up my loo no end! Not sure the missus is too happy with the new decor, but that's life I guess ...
---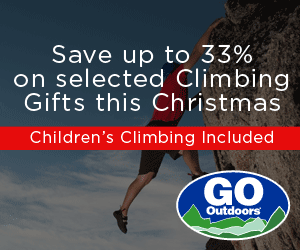 Elsewhere on the site
PowerFingers is a simple, easy to use product which is incredibly effective for Climbers who require finger strength and... Read more
141222
0
Perhaps the perfect Xmas gift for the climber in your life... Wild Country's Crack School has two of the worlds best crack... Read more
141219
0
With four photos in this week's top ten, and a UKC gallery of stunning images we thought it was time we had a chat with... Read more
141203
0