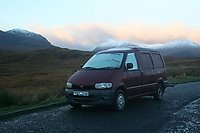 Nissan Vannette Cargo Camper for sale
80000 miles
MOT till February 2014
Tax till 30.4.2013
2.3L diesel
Year 2001
Based in West Sussex
Me and my girlfriend bought this van in October for a road trip round Scotland. We lived in the van from end of October till Christmas. This is the perfect van to get back to after a long day on the hill or hide in when the weather's really horrible. Home conversion foil, polystyrene, and carpet lined. It keeps you warm even when there is snow on the ground. There is an inbuilt bench cupboard which folds out into a double bed.
Comes with;-
New leisure battery
Propane stove (Campingaz Logan with lid) needs someone to make a nice box for it to sit on.
Two very strong LED lights wired up to leisure battery
GT0 400w amplifier plugs in to MP3 player, five speakers in the back. Wired up to the leisure battery. One is a large removable bass speaker.
To fans mounted on the rear door which run of the leisure battery, good if you cooking and its horrible out sided.
12v sockets and USB socket for charging, wired to leisure battery
Curtain to separate front from back.
Homemade window covers
Please contact me for further details andrewlgriffiths@gmail.com or o78185587o3
More photos
https://picasaweb.google.com/115946080313190512588/NissanVannetteCargoCamperForSale?authkey=Gv1sRgCI...