| | |
| --- | --- |
| | / My week with Glenmore Lodge and Al Halewood |
This topic has been archived, and won't accept reply postings.
Just a review of my intro winter climbing week with Alan Halewood at Glenmore Lodge.
First off, much more snow than last year! Once again a mega day's travelling to get to Scotland from Plymouth, got to the lodge about 18:00 on the Sunday.
Monday morning we spent some time looking over the kit we should take into the hills and the kits that would be nice to take into the hills. We then looked at rope work for belays and the like since the other chap hadn't done much climbing before. We then went and spent the afternoon on the tower getting some practise using our front points. I then went back into Aviemore to spend money I don't have on a very very orange primaloft jacket.
Tuesday up to Ceist crag for a day putting the skills yesterday into practice. Up a unnamed route with a final section about grade III (or so Al said). I then got to try my jacket out for good as we packed up, it is warm! I also managed to destroy my B3 boots, the sole and the plastic body decided it was no longer time to be a couple!
Wed we walked in Coire an t Snechda, vis was ok as we moved in. Got all ktted up and then moved to the climb, this was a bit of a slog as we were a bit away from the start. This took some of my brave soloing along the soft ground. Al was great here pointing out how damn hard walking was so a fall would just have me sink! Got to the base of hidden chimney, it looked BIG, especially for a Dartmoor climber! Off we set getting to the mixed part of Scottish climbing. It was great. Windy and snow/ice falling everywhere, I ended up covered, even my tache froze up! Got to the top after loving it, and all things considered not too cold, not that I could have got my belay jacket on in the wind even if I'd wanted it! Now time for a windy, haily walk back, really should have put goggles on!
Thurs, what a stunning day and what a walk in! Lurchers crag just seemed to stay miles away and I was on my chip strap after 30 mins! Got to the bottom of Central Gully last of all the teams we saw, all thanks to my slow slow feet.
Wow is all I can say for this climb, never climbed any ice before and the 2 ice pitches were FAT, scary but solid. I've got a video of me on the second pitch with only a little bit of swearing in shock as my crampon parted company with the ice, I'll post it up somewhere and link later on. Now before that 2nd ice pitch a big old lump of ice came thundering down, we covered up but I took it on my left arm. Whihch is now purple! Good thing I covered up or that would have been my face and I don't want to have to get the MRT out to get a concused Matt. After 300 odd feet of climbing there was a 80 foot solo out. Which considering I am not brave I'm chuffed that I did. Now it was time for a long slow walk back to the van, pleasantly warm. Softshell only too, didn't go near my hardshell which made for a nice day.
Final day and we went back to Coire an t Snechda where we went along the Two Ridges, or is it Twin Ridges, nice bit of fun there ending up with some instruction in abbing of double ropes, cows tails and such like.
Now with 30 mins to kill beofre the other team were ready to walk back with us Al went over assisted and unassisted hoist since I couldn't remember how to make them.
All in all this was an amazing week, I can't recommend Glenmore Lodge enough, and equally Al was great. A good patient teacher who helped me get going even when I was dieing and not happy. He has some photos on his blog but he gave me a copy so I'll try to host them somewhere in case anyone is interested. I'm the guy in the yellow salamanda.
As a course it felt as if it was aimed at not only getting us on the hills to enjoy ourselves but also in learning so we could get out on easy grade I or II ground without them when we want to, and learning is good.
As a final aside, what with my bust boots I need some new ones so if you could pay a vist to my gear thread it would be helpful!
http://www.ukclimbing.com/forums/t.php?t=538364
I should also add, I now have a big old shopping list!
A bag that can actually fit everything in is a main one, and whomever at berghaus designed the waterproof trousers for men without a fly is a complete and utter pillock!
I think I'll be trying to spread the new kit out over the year this time and not get into an orgy of spending in March.
In reply to
fire_munki:
Here are the pics I've posted, taken by Al and Jo.
In reply to
fire_munki: Glad you had a good week. I believe we met you at Lurcher's Crag, we were just gearing up to climb North Gully. Hope you get plenty more quality winter days.
Chris

In reply to
fire_munki:
Nothing like a satisfied customer!
---
This topic has been archived, and won't accept reply postings.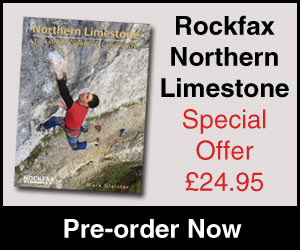 Elsewhere on the site
This Winter Conditions page gives a summary of what is being climbed at the moment, what is 'in' nick and what the prospects are... Read more
F ounded in 1993, Mountain Hardwear are a pretty young mountaineering clothing and equipment manufacturer but are also one of... Read more
141216
0
With four photos in this week's top ten, and a UKC gallery of stunning images we thought it was time we had a chat with... Read more
141203
0
Tonight's Friday Night Video features the Norwegian town of Rjukan, once believed to be the home of the world's tallest... Read more
141219
0
Rock shoes stink – let's face it. Boot Bananas are the perfect way to fight the funk and keep them fresh. They help... Read more
141219
0
Perhaps the perfect Xmas gift for the climber in your life... Wild Country's Crack School has two of the worlds best crack... Read more
141219
0
---