| | |
| --- | --- |
| | / would this be ok for prusik loop |
This topic has been archived, and won't accept reply postings.
In reply to
anomm: Sorry, I use 6mm.
I know that doesn't help!
In reply to
anomm:
I went for 5mm The rationale being that I'd rather have a bit more 'bite' even at the expense of a little smoothness that a thicker diameter would give.
In reply to
anomm:
Perfect for 8 or 9 mm ropes. The greater the difference in diameters to better it'll grip / lock under load.
In reply to
anomm: I am equally happy using both 5mm and 6mm.
I would NOT use 4mm which I have seen others using. Equally, for recreational use 7mm is probably not ideal, although it is commonly used in MR and industrial rope access applications (which may explain the 'Beal recommendation').
In the last few years I've mainly used standard Mammut 5mm but that is because I acquired an entire drum of it. It works fine, however I still have an older and 'softer' 6mm prusik loop of unknown manufacture which arguably handles better. Some cord handles better than others, but I couldn't say which.
If you are going to be heavily using your prusik loop(s), such as a back-up when abseiling, I would buy 6mm. However if the loops will hopefully spend the entire season on the back of your harness then there would be little reason not to buy standard 5mm.
As regards the lengths that Needlesport 'recommend' -
http://www.needlesports.com/Catalogue/Rock-Climbing-Equipment/Cord-Tape/Prusik-Loop-Cord/Prusik-Loop...
- I find the shorter lengths; 1.25m @ 5mm and 1.5m @ 6mm work best for general use.

In reply to
The Ex-Engineer: Thanks very much - ordered 6mm ones and going to be regularly using it to back up belay. Quite glad i checked then as 7mm would probs be overkill
(oh and incase anyone is interested i actually ordered of facewest.com as they were very cheap for some beal cord)
---
This topic has been archived, and won't accept reply postings.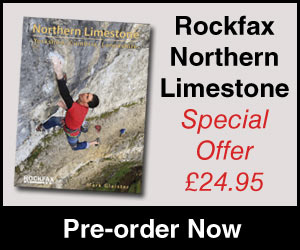 Elsewhere on the site
Rock shoes stink – let's face it. Boot Bananas are the perfect way to fight the funk and keep them fresh. They help... Read more
141219
0
Tonight's Friday Night Video features the Norwegian town of Rjukan, once believed to be the home of the world's tallest... Read more
141219
0
With four photos in this week's top ten, and a UKC gallery of stunning images we thought it was time we had a chat with... Read more
141203
0
Perhaps the perfect Xmas gift for the climber in your life... Wild Country's Crack School has two of the worlds best crack... Read more
141219
0
F ounded in 1993, Mountain Hardwear are a pretty young mountaineering clothing and equipment manufacturer but are also one of... Read more
141216
0
---