| | |
| --- | --- |
| | / camper van road trip |
This topic has been archived, and won't accept reply postings.
We have 5 weeks in the summer and a camper van. We are looking at options for a European road trip, but not the usual Alps and Dolomites (we have done these places lots of times!) We are looking into Norway but the costs are a little overwhelming. Any suggestions/ideas? Thanks!
In reply to
cinders:
france and itay. plenty of shadey crags.
In reply to
cinders: I did the same last year - I went Font - Switzerland - Ailefroide and back via font again, visiting climbing venues on the way. Didn;t feel like too much driving. I got to do some amazing climbing and via feratta and visited some interesting touristy venues too.Switzerland was expensive and we only got away with wild camping a few times but the climbing made up for it.
A mate of mine went more direct to Ailefroide and worked his way up the west coast of France. We both ended up with fantastic photos.
This year I have nearer 6 weeks and am hoping to reach Slovenia, which is a great place also.
Happy planning. Keep us updated with what you decide!

In reply to
cinders: How about Corsica & Valle Dell'Orco & Valle de Mello? Been to the first two, which we really enjoyed. Stunning scenery in Corsica, with great climbing on weird granite, with everything from roadside sport crags to lots adventurous long routes. There's a couple of recent selective guidebooks in English. Could easily spend a month here - we had a week at Bavella, and another at Restonica. Again, after September most of the campsites at Zonza closed, but the one at the start of the Restonica valley stays open longer. It's right next to town - Corte - so handy for provisions & cafes/bars, but can be noisy.
Orco is also definitely worth experiencing, though doesn't quite live up to the 'Italian Yosemite', though to be fair I don't think anywhere can compare with the valley! Great if you like crack climbing, though with plenty of bolted slabs also. You end up abseiling off most of the routes - lots decent bolted anchors. Also lots of big alpine stuff gained from series of refuges further up the valley. We were there October, so very quiet, with most of hotels & campsites closed, but would be hot & busy in August.
Haven't made it to Mello yet, but by all accounts slabs are desperate...
Cheers,
Gary Latter
---
This topic has been archived, and won't accept reply postings.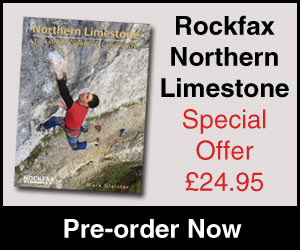 Elsewhere on the site
F ounded in 1993, Mountain Hardwear are a pretty young mountaineering clothing and equipment manufacturer but are also one of... Read more
141216
0
Will Sim and Andy Inglis have made the second ascent of VIII,9 on Ben Nevis, followed by Will making a rare... Read more
141222
0
PowerFingers is a simple, easy to use product which is incredibly effective for Climbers who require finger strength and... Read more
141222
0