Click to view latest messages in all forums

Premier Post - Canon 450D 18-55mm IS & 55-250mm IS lenses - £450
by - tom.m
on - 06 Mar 2013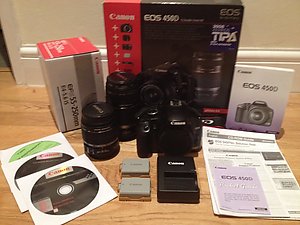 As title suggests - £450 + £15 postage

Canon 450D 12MP digital SLR camera including an 18-55mm Image Stabilised lens and 55-250mm Image Stabilised lens.

Kit comes with the strap, UV filters fitted to the lenses, all the software and paperwork for the camera and I'll also include a spare battery which is a genuine Canon battery.

This is a great camera for anyone looking to get into digital photography all the way up to a confident intermediate photographer. It would certainly never be the limiting factor to my photography!

There is a very slight blemish to the rear lcd screen and some very light scratches to the base of the camera body. These are very minor and nothing more than you would expect for a second hand camera, I just want to be absoluetly upfront. I have photos of these and can e-mail on request. Overall I would describe the condition as very good.
by - tom.m
on - 13 Mar 2013
In reply to tom.m:

Any offers?
---

[top of page] - [forums latest]