Click to view latest messages in all forums

Premier Post - FS: Garmont Adrenalin Ski Touring Boots
by - oceancurl66
on - 10 Mar 2013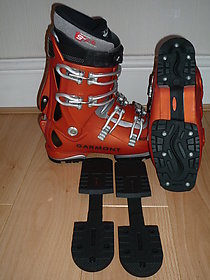 Garmont Adrenalin Ski Touring Boots - £85

Shell size - Mondo 27.0
Garmont g-fit liners - Size 27.0
Boot length 306 mm.

Bought these second hand off eBay 2 years ago. Had my feet properly measured since and found they're a size too big for me. Unused by me since purchase.
Currently fitted with AT soles - these appear to have had some use by previous owner as the toe ends show some minor scuffs but soles have very little wear.
Have original allen keys and inter-changeable downhill soles (these don't look to have had any use at all).

Prefer local pick up (N. Derbyshire) or can courier.
(Postage incl. in price)

Payment - Paypal preferred.
---

[top of page] - [forums latest]