| | |
| --- | --- |
| | / Lake Garda at Easter |
This topic has been archived, and won't accept reply postings.
Staying at the south end with wife and young bairns. Any point in me taking the ferrata stuff and hoping to sneak away for a few hours or is everything to do too far away? Otherwise any suggestions for things to do as a family?
Cheers
jd
In reply to
el diablo: Bit of a trek.. there is nice walking up the tops Balde? few years ago now.. its not strictly the true dolomites but some great mountains directly behind Malcesine.

Boats on the lake are good - a few nice beaches. Suspect lake might be a bit chilly at Easter.

Limone, Malcesine and Sirmione are stand out towns on the lake - all connected by ferry. Some nice fairytale castles.

Monte Balde gas a good cable car from malcesine - stunning views from the top and child friendly (with a coat). Bit of a paracending mecca too.

There's a big themepark/waterpark at bottom of the lake.

Verona is 40 mins away and a stunning wee city.

Watch out for afternoon thunder storms!

If you are mobile some nice wee mountain roads on east side of Monte Baldo - head to Madonna della Corona Sanctuary for a spectaculer setting.
In reply to
el diablo: I seem to remember that there's a great via ferrata at the far (North) end. you look right down vertically to the lake from 3000 feet up. Well worth doing. My memory is a bit hazy but I've a vague recollection that the start wasn't too obvious.
In reply to
el diablo: There's a via ferrata behind the campsite just outside Arco. It's not that long but is interesting enough to pass a couple of hours on.
In reply to
el diablo:
There's a few good VF routes near the top of the lake, in the cicerone southern Dolomites book.

In reply to
el diablo: if you go up to Riva del Garda there is the SAT via ferrata. It's pretty decent and can be done most of the year. If you have a car, its probably an hour ish to get up there depending on where you're staying.
---
This topic has been archived, and won't accept reply postings.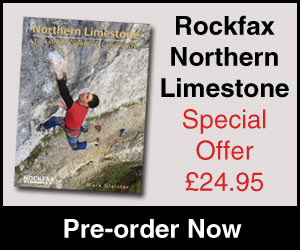 Elsewhere on the site
F ounded in 1993, Mountain Hardwear are a pretty young mountaineering clothing and equipment manufacturer but are also one of... Read more
141216
0
Will Sim and Andy Inglis have made the second ascent of VIII,9 on Ben Nevis, followed by Will making a rare... Read more
141222
0
Perhaps the perfect Xmas gift for the climber in your life... Wild Country's Crack School has two of the worlds best crack... Read more
141219
0
With four photos in this week's top ten, and a UKC gallery of stunning images we thought it was time we had a chat with... Read more
141203
0
PowerFingers is a simple, easy to use product which is incredibly effective for Climbers who require finger strength and... Read more
141222
0
---