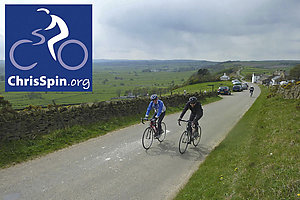 Chris Spin Charity Bike Ride - Sunday 26th May 2013
If you are into your road biking then come and join us on a great day out in the Peak District. There are two rides - a long one (52 miles) and a shorter one (16 miles) both fully supported with refreshments on the route and a lunch stop.
The Long Stretch
This 52 mile tour takes on three mighty hills and a few mini ones as well. It starts in Heatherdene carpark by Ladybower and tackles the Hope and Edale valleys, before swinging south towards Tideswell and Monsal Dale. From here the circuit comes back up Froggatt and across to Ringinglow before closing the loop over Stanage. The first major climb of Mam Nick from Edale is probably the best climb in the Peak, and the drag up Froggatt is an old favourite that many will have done before.
Full course map here -
http://media.chrisspin.org/2013/02/Chris-Spin-2013-LongRide1.pdf
Short and Sweet
A shorter 15 mile circuit beginning and ending at Foolow with lunch timed so that both rides arrive at the same time.
Full short course map here -
http://media.chrisspin.org/2013/02/Chris-Spin-2013-ShortRide.pdf
The event is to raise funds for prostate cancer in memory of Chris Martindale.
More information here -
http://www.chrisspin.org/about-us/
Donations here -
https://www.justgiving.com/chrisspin2013/
Entry is a nominal cost to cover the refreshments which is payable on the day, and then what you can raise either with sponsorship or personal donation.
If you want to know more about the ride then please contact me via email - alan [at] rockfax.com
If you are ready to take the plunge then please fill out our application form here -
http://www.chrisspin.org/2013/01/chris-spin-2013-application-form/
Alan James
Chris Spin Web SIte
-
http://www.chrisspin.org
Chris Spin on Facebook
-
http://www.facebook.com/pages/ChrisSpin/359683450751773