Click to view latest messages in all forums

This topic has been archived, and won't accept reply postings.
Topic - Heavy Traffic on Point Five Gully on Saturday
by - RKernan
on - 18 Mar 2013
On my way up to an epic on Smith's Route on Saturday I took this picture of Point Five Gully.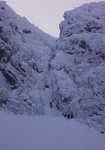 http://www.ukclimbing.com/images/dbpage.html?id=215615

At least 4 parties on/gearing up for the route, and as you can see in the photo one person leading up directly below someone seconding.
There was no-one on any of the routes either side of Point Five.

Too me this seems a bit insensible and dangerous - what with ice fall down the chimney etc. (Thinking back to that blog post by Will Gadd, http://willgadd.com/category/blog/ )

I did Point Five two weeks ago but we had the route to ourselves. I wouldn't like to be below anyone on it - surely it would be better to go for plan B, Indicator Wall, Hadrian's, Smith's or some such. It's just going to ruin a classic route for you if you get stuck behind/on top of people and showered by ice.


That said I got into a near rescue scenario myself stuck under (and falling off) the cornice atop Smith's in the blizzard that developed later that day so maybe I'm not the best judge of Winter safety.
... not showing 13 replies to this topic ...
Register as a New User or login to gain full access to the forums. Registration is quick and completely free.
If you are definitely logged on, press Ctrl+F5 keys to reload this page [read more]



Unregistered users can only read messages in the most recent topics.
---
This topic has been archived, and won't accept reply postings.

[top of page] - [forums latest]