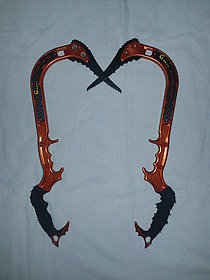 I have for sale a pair of Grivel Master Alloy ice axes. These are practically brand new and have only been used twice. Once on an indoor wall, dry tooling for an hour, the other on an outdoor man made ice wall for an hour also. The picks are still factory sharp, the grip is still in mint condition and there are no blemishes, scrapes or scratches. The link to grivels site is below. *Please note* These are the latest versions with the clip in points on the handles.
http://www.grivel.com/products/ice/ice_axes/72-master_alloy
Price - £500 o.n.o
I also have for sale a Rab Quantum 600 Endurance sleeping bag in Black that I have used only a handful of times. Comes with original storage sack and stuff sack. Mint condition, still lofts like new with no down escaping from any seams and no tears or frays. Limit temp: -11 degrees Celcius.
Price - £150
I have for sale as well a pair of brand new, boxed La Sportiva Miura VS climbing shoes in size 42.5. I bought them 6 months ago and never had chance to use them and after putting them on again last week, they just do not fit my fit at all!
Price - £100
I can provide more photos upon request. Please email me for any other details.