View latest messages in My Forums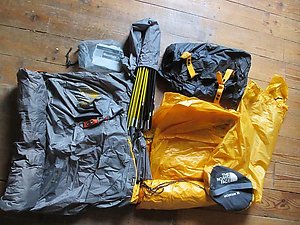 North Face Mountain 25, 2 man tent, including footprint. In excellent condition and well looked after.
£300 exc. p&p but could meet up to exchange depending on where you are located.
In reply to
dinkypen:
Hello there,
I am interested in purchasing this tent. Where abouts are you based? I am based in the south west, near Basingstoke.
Many thanks
Tom
In reply to
tomb41:
I am actually based in France but will be back in the UK for 10 days from Tuesday, hence the mad rush of selling stuff in the forum! I will be travelling from Gatwick to Dorset this coming Tuesday lunchtime so could do a detour via Basingstoke if it's convenient? Otherwise, I'm flying back on the Thursday 4th in the morning. Let me know if either works for you?
In reply to
dinkypen
Yep it might be actually!
I will contact you tomorrow via here tomorrow if thats cool
Best
Tom
In reply to
tomb41:
Can you email me through my profile please and also give me your 'phone number. Many thanks.
---
My Forums