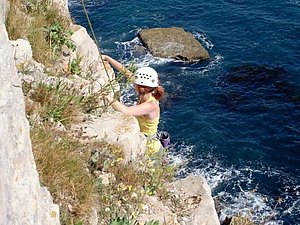 The snow will soon be gone and the sun will be back after a long winter! Swanage's lovely limestone will be dry and warm to the touch again...
Have you done some climbing in Swanage at Subluminal or Cattle Troughs and looked across to the bigger, intimidating cliffs such as Boulder Ruckle? The big adventurous sea cliffs are what Swanage does best, they're committing, steep and often lonely place that require confidence and a high level of skills.
Join me, a qualified Mountaineering Instructor who's spent years climbing on Swanage's cliffs to learn the skills you need to take care of yourself on committing sea cliffs. Great for Swanage but equally necessary for climbing on big cliffs anywhere such as Pembroke or Gogarth.
Over the 2 days we'll get lot's of climbing done, but we'll also look at lots of ropework scenarios and much more.
Early Season Dates So You Can Make The Most Of The Summer:
18-19th April
9-10th May
16-17th May
25-26th May
1-2nd June
Other dates may be available, just ask
£125 per person, max ratio 1:2
http://www.jbmountainskills.co.uk