| | |
| --- | --- |
| | / Ski Touring in North Wales this Friday |
This topic has been archived, and won't accept reply postings.
Hoping to get up to North Wales on Friday for a day of Ski Touring. Does anyone have any suggestions on good ski tours in the Snowdon/Llanberris/Ogwen area? Along with places to park, I have a ford fusion (which isn't exactly a 4 by 4) and might be able to get my hands on some snow chains.

Any advice on conditions/avalanche warnings would also be great!
In reply to
Chris Perry:
Went up to Moel Eilio yesterday (Wed). Nee good. 500m of "blue run" near the top. Really scoured and icy underneath. It was a good venue 2 years ago. The wind scoured a lot of slopes and leaving drifts down at valleys and gullies. Llanberis side of Y Garn looking across from Moel Eilio looked good yesterday. I'd like to check it out in the next few days. Carneddau look quite white from a distance but it can be deceiving.
I tried in January. Again, scoured by easterly wind. It looked good from upwind angle, ie, from Bethesda but not good from the top of Carnedd Gwenlliam. Very thin layer of powder.
It may be a bit different this time round. But my best bet is actually Berwyn near Corwen/Llangollen. I saw on the news this week with lots of drift at people's houses, shops. There's a thread in UKC saying Berwyn is really deep on one side and scoured on the other ( I suppose east side). I'm going to check that out in the next few days.
I haven't been on many mountains this week. Avalanche probably depends on which aspect you're going down. It's very variable I've heard so far. Like on Moel Eilio, there was hardly any snow; just frozen ice crust.
Let us know how you get on. I'm going to check out some icefalls in Ogwen tomorrow.
In reply to
Chris Perry: West through to South Wesy slopes on Carneddau all good for snow depth, steeper slopes are only moderately bonded and I found a few places where a hasty traverse was needed, East facing slopes scoured on tops and thin ice crust with spring ( graupel/corn) snow underneath, no good for ski but OK for boot.

In reply to
Skinny Kin:
Cheers for the heads up. In the end we did the Carnedd section of the Welsh 3000s skiing off the ridge that connects Pen Yr Ole to the other Carnedds. Was a good day all in all, the snow was pretty good along the ridge lines, but very windy. Couldn't quite ski all the way down to the A5 as the snow was getting patchy.
http://www.ukclimbing.com/images/dbpage.html?id=216895
---
This topic has been archived, and won't accept reply postings.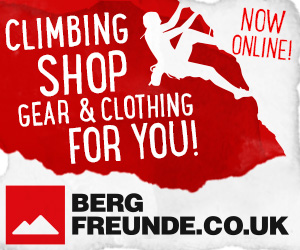 Elsewhere on the site
PowerFingers is a simple, easy to use product which is incredibly effective for Climbers who require finger strength and... Read more
141222
0
With four photos in this week's top ten, and a UKC gallery of stunning images we thought it was time we had a chat with... Read more
141203
0
Will Sim and Andy Inglis have made the second ascent of VIII,9 on Ben Nevis, followed by Will making a rare... Read more
141222
0