| | |
| --- | --- |
| | / A different look at winter conditions |
This topic has been archived, and won't accept reply postings.
The weather has been strange in Cumbria for the last ten to fourteen days.
The west coast has been devastated, lambs and ewes frozen to death under drifts up to twenty feet, farmers unable to reach their flocks. Some are seeing 20% of this years income gone under the snow. Other districts are snow free, only fifteen miles away.
On the hills, the weather has been so terrible, minus 20c and gale force winds on the tops. Only the brave have been up there. The daily Helvellyn
walk to the summit to check conditions has been extended until this bad weather recedes.
But cheer up everyone, the improving weather should show some good conditions high up.
So why is this thread called "different"? Because when we were about 12 or 13 years old, we climbed Skiddaw, in heavy snow carrying a sledge to the top and then sledging down the "back o' Skiddaw" the east side. That sledge ride seemed to last forever. When we reached the bottom we wanted to do it again but were not strong enough to climb back up with the sledge. We were also lost, we didn't know that part of the district and had to hitchhike home with the sledge. I advise everyone to try that, the sledging, not the hitching. It's better than a zip wire on Honister.


In reply to
mockerkin:
I think it was in the late 80s at easter I slid in an orange Fisher's bag from the Helvellyn cornice practically to Red Tarn, all under a huge depth of snow
In reply to
mockerkin:
Something we did a couple of times when you could get the right sort of snow bank was to dig a tunnel through so you could run down a modest slope in your bag and then drop into the tunnel and shoot out of a hole in a steeper bit of bank and continue down ...
In reply to
wercat:
Orange bivvy bags are particularly exciting when sledged head first, with a pair of ski poles strapped to the side of your rucsac. Decent bump, tips of poles dig into snow, and a high speed forwards roll....
Not the Lakes though, that was a day's walk from anywhere in the Pyrenees. And the trigger for learning to ski.

In reply to
mockerkin:
Now that three of us have shown the excitement of sledging, sleighing, toboganning to the rest of UKC can we expect a forum for it?
---
This topic has been archived, and won't accept reply postings.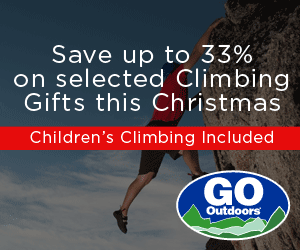 Elsewhere on the site
F ounded in 1993, Mountain Hardwear are a pretty young mountaineering clothing and equipment manufacturer but are also one of... Read more
141216
0
Tonight's Friday Night Video features the Norwegian town of Rjukan, once believed to be the home of the world's tallest... Read more
141219
0
Rock shoes stink – let's face it. Boot Bananas are the perfect way to fight the funk and keep them fresh. They help... Read more
141219
0
The release of Peter Jackson's new film The Hobbit: The Battle of the Five Armies on 12th December may not appear to link to... Read more
141212
0