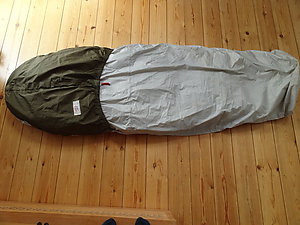 This bag was made to spec. by Mountain Equipment for a Himalayan trip but could also be used for big alpine winter routes. It is designed for use without a tent or bivvy bag. Based on their famous Redline bag, this is Goretex covered, with a Goretex hood which can be pulled right down to the waist when sitting on a bivvy.
It is wider than usual and has internal Goretex at the foot, so that you can get into it fully clothed and with your boots on. There is a hole at the rear for attaching your harness to a belay.
Approx measurements: 1.8 metres long by 0.65 metres wide. Weight 2.4 Kgs. It contains extra down at somewhere between 1000 and 1200 gms.
It has been used only once, for a Himalayan trip where it worked brilliantly. It is old, but still has that unmistakeable odour of duck!
Would cost a fortune to have it made. Sell for £200 plus £10.00 p. and p. Can be picked up from Sheffield.