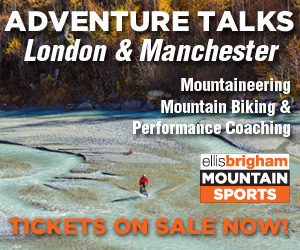 Hear James McHaffie & Andy Houseman talk along with 4 other speakers over 2 nights on the 24th & 25th April in Manchester & London.
Andy Houseman
(London & Manchester) &
James McHaffie
(Manchester) will give you an insight into what motivates them to strive to climb higher and the highs and lows of their most recent adventures.
Andy Houseman
will talk about how, with Nick Bullock, they became the first British team to make the ascent of one of Alaska's hardest alpine test pieces - the Slovak Direct on the south face of Denali. Andy will share with you the highs and lows of the expedition, and take you through his most committed, but memorable, mountain experience to date.
James McHaffie
has been climbing for 18 years and has climbed extensively in Britain and abroad, making the first ascent of Britain's hardest slab last year named 'The Meltdown', and repeating the hardest climb in Wales the year before that, a 9a called 'the Big Bang'. In this talk James shares his experiences of big wall climbs in Yosemite.
Tickets are £8 with
ALL
proceeds going to two fantastic charities helping to save the lives of adults and children.
To see the other speakers who will be joining James and Andy and to book your tickets please visit:
http://www.ellis-brigham.com/advice-inspiration/blogs/?filterBy=Talks