| | |
| --- | --- |
| | / Trip exchange this summer ? "Host" me and I will (in France) ! |
This topic has been archived, and won't accept reply postings.
Hi !

My name is Ludovic, I'm from France and currently living in London (till June) but after that.. I have no idea what to do !

And I was like.. Humm I love climbing.. traveling.. learning new culture and meeting know people..

Why not "invite" someone to come to France, and we could camp and share everything together in different places and spend all our time rock climbing (and bouldering) !

We could do it for one month and then you "host" me in your country to do the same !

So if you like France, want to improve your French (and my English!) and climb this summer... I could suit you !

Let's talk about it..

Hope to hear from you soon !

Ludovic
In reply to
Ludo:
Je pense il pense que votre mots ont l'air suspect!
Remplissez votre "Profile" avec des informations et un photo peut etre.
In reply to
Ludo: Yes I get it, but it's absolutely serious..! I added some details on my profile.. :)
But no, it's really serious, it's not a all inclusive-free-everything or I don't know what... it's just a topic to talk about it because it's something that I'd love to do !
In reply to
Ludo:
Salut Ludo.
C'est une bonne idee, qui m'interesserai. Cependant mais projets pour cet ete sont assez bien arretes. Je vais grimper dans les alpes avec ma femme, pour 3 ou 4 semaines au mois d'aout, et apres nous allons a la Corse pour faire le GR20. Apres ca je suis libre parce que je ferais la retraite (mais j'ai envie de faire une saison dans une station de ski si je peux trouver un boulot).
Mais je suis d'ac avec les autres, a mon avis Londres c'est de la merde, pour grimper aussi que pour habiter.
Il faut que tu rends visite au Peak District, la cote sud-ouest ou la montagne britannique.
Bonne chance et bon courage!
Alex

...et c'est comment l'escalade autour de Nantes?
---
This topic has been archived, and won't accept reply postings.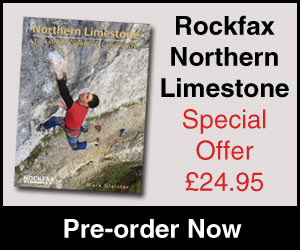 Elsewhere on the site
Will Sim and Andy Inglis have made the second ascent of VIII,9 on Ben Nevis, followed by Will making a rare... Read more
141222
0
F ounded in 1993, Mountain Hardwear are a pretty young mountaineering clothing and equipment manufacturer but are also one of... Read more
141216
0
Perhaps the perfect Xmas gift for the climber in your life... Wild Country's Crack School has two of the worlds best crack... Read more
141219
0
With four photos in this week's top ten, and a UKC gallery of stunning images we thought it was time we had a chat with... Read more
141203
0
PowerFingers is a simple, easy to use product which is incredibly effective for Climbers who require finger strength and... Read more
141222
0
---