| | |
| --- | --- |
| | / Alpkit Phud Bouldering mats.. or better alternative? |
This topic has been archived, and won't accept reply postings.
I'm in the market for a couple of mats and have been browsing around the place, ideally looking for two big-ish pads and maybe a 'satellite'/spotter pad, but looking at buying piece by piece over time. Have identified a few contenders, so wondered if anyones used them, had good or bad experiences etc before i shell out, looking at:

*Edelrid DeadPoint.
Pros: Big and thick, come with a decent sized but thiner second pad all in the same price, so solves two of my needs in one. (Also the other model that splits in two looks interesting.)
Cons: Price (kind of balanced by the second pad though), Weight, will be bloody heavy at 6Kg + 1.6Kg all together.

*Metolius Boss Hog/Bail Out.
Pros: Heard good things, can get a Bail Out for not a bad price (about the same as a Snap Bun), The strap/wrap on the Boss Hog looks pretty useful.
Cons: both seem to be the same mat, but the Hog having a better fastening system, not sure thats worth another £30, Apart from that seem a good all rounder.

*Snap Bun.
Pros: Pretty Big, Thickest foam i can find, Decent price.
Cons: Heavy, Straps look a bit basic.

Any feedback good or bad on any of those would be great.

Then as i've been browsing i've seen these Alpkit Pads, the Phud looking pretty impressive at the price. So my Question, Are they any good or are you getting what you pay for?
They just seem bloody cheap for what they are, but i'm considering one on the basis that at that price why not? And also when i get my main pad it'll be used as a second layer for highball stuff or for lining a traverse etc.

so yeah, I guess they are the pads i'm considering, any ones i should drop off the list?

Sorry for the long as hell post, but at the price of these blimmin things i want to consider it properly before handing over my cash!
In reply to
Steve nevers: First thing to keep in mind carrying more than one pad is a ball ache. I'd say I'm of average height and going up or downhill carrying a pad in my hand means its scraping along the ground.
I have two pads the same size if I want to carry a few pads. Usually strap a boss hog onto my organic pad (as it has a better strap and waist/chest straps.) Works well as they are both hinged pads taco/folding style pack larger putting the weight further back increasing strain on your back.
I also have a snap bun going on three years and no sign of the foam going soft. But yes could do with a hip belt but being a folding mat it's easy to fill with gear for the day just make sure you have space to store it flat or the foam will go soft where its under stress.
In reply to
Steve nevers:
Can't comment on your top options, but I've always used Alpkit pads. Prices are lower because they don't have the overheads the 'big' companies have so I wouldn't worry about their quality. I've used the old Phud for 3 years and its still going strong.
The new one is smaller I believe, think the Mujo is the same size as the old phud.
In reply to
Steve nevers:
I have a new Phud and have been impressed by it for the price. The folding straps are starting to detatch slightly and its got some small rips but I've given it a hard time and the foam is still good.
One problem with the Phud is it only has one strap and so is pretty annoying to carry on a long walk or on rough terrain. I usually carry two pads, the other is a really old and thin cordless taco pad, which has two wide comfy shoulder straps. I can fit the phud inside the cordless pad when folded to carry them both easily, and they work really well together when folded out.
In reply to
Steve nevers:
I've used the Bail-Out for about a year now and it's great. I got a Snap Whopper to go with it and much prefer the Metolius (although the fact you can split the whopper into two smaller mats is really helpful). Quite often I use the Bail-out as my main pad and the 2 halves of the whopper as satellites. The angled join on the metolius is super helpful in avoiding any twisted ankle disappearing in the fold.
In reply to
Steve nevers:
Cheers all.
Think I'm going to order a Phud and try it out over the next couple of weeks as i pay for a Snap Bun in installments.
A ladyfriend reckons she can rustle up some harness style thing so i can strap some shoulder straps to the Phud that'll last in the meantime. Then when i get the Bun she can add a waistband and maybe a Boss hog style cover/wrap of a high quality, so I'll be able to tuck the Phud into it, she makes marquees normally so she'll be able to attach something of a good standard.
Weight should be ok as long as the carrying function isn't to awkward.

In reply to
Steve nevers:
Have to say fairplay to Alpkit, Delivery within 24 hours, build seems good, and it seems pretty decent to slam onto. (judged by umping down the stairs onto it at least.) For £65 including postage not to shabby.
---
This topic has been archived, and won't accept reply postings.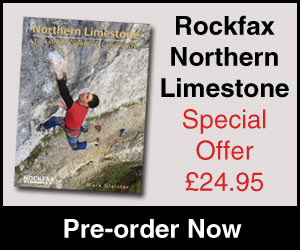 Elsewhere on the site
Perhaps the perfect Xmas gift for the climber in your life... Wild Country's Crack School has two of the worlds best crack... Read more
141219
0
Will Sim and Andy Inglis have made the second ascent of VIII,9 on Ben Nevis, followed by Will making a rare... Read more
141222
0
The release of Peter Jackson's new film The Hobbit: The Battle of the Five Armies on 12th December may not appear to link to... Read more
141212
0
F ounded in 1993, Mountain Hardwear are a pretty young mountaineering clothing and equipment manufacturer but are also one of... Read more
141216
0
PowerFingers is a simple, easy to use product which is incredibly effective for Climbers who require finger strength and... Read more
141222
0
---