| | |
| --- | --- |
| | / New , from Leeds - A bit of experience on sport/trad |
This topic has been archived, and won't accept reply postings.
Hi everybody,
I am Tom, 28, from Horsforth (West Leeds) and I have been getting more and more into climbing lately and finally gave in and writing my first post on here.

I have been watching the forums for a while for advice on gear, routes, places, etc. and it's been really useful (cheers guys!).

I always liked the outdoors and always been into hiking, mild mountaineering (via ferratas, scrambling etc.) and cycling (mountain bike and road) and some backpacking/trekking expeditions + wild camping/bivying/bothies etc.).
Lately I started tackling going vertical and got more into climbing, but I am still just more than a beginner really.

I've been going indoor climbing for a couple of years, weekly in the last few months (mostly Leeds wall, and sometimes Harrogate).
I can lead a 6a, possibly 6b now but overhangs are still an issue. Most of it is in my mind, and I'm not particularly strong anyway. I think I am improving though. With a strong overhang I can only lead a 5+.

I've got a bit of experience on grit with a bit of trad leading too. This is due to a couple of friends (some of them have left Leeds though), been out to Stanage, Birchen Edge, Burbage North and Almscliff last summer (2012) and managed to lead up to Hard Severe (Crack and Wall at Almscliff, pretty hardcore for me at the time).
I managed to do an HVS in top-rope many years ago at Heptonstall.

I had some experience of sport climbing too. I led the 5+ in Castlebergh (Settle, N Yorkshire) and did some of it in north-eastern Italy where I come from originally (I'm from Udine, to be precise).

It's been the last few months really. I got the buzz and just wanna get out, get better, get fit and get more confident. It's probably been all the times I've cycled past Almscliff or Ilkley crags, saw all the climbers and got envious and envious.

Thanks to a bit of savings, I'm putting together a rack and at the moment I've got:
- 5 screwgates
- 2 x 60cm dyneema slings
- 3 x 120 cm 16mm slings
- 2 x 240 cm 16mm slings (maybe 240 cm is over the top but I remember trying to set up anchors where a huge sling would have made the whole thing quicker and safer)
- Set of nuts (DMM Wall nuts 1-11)
- Set of hexes (DMM Torque, 1-4)
- Set of micro-nuts (DMM I.M.Ps 0-5)
- 13 quickdraws between 8 and 20 cm
- 60m single rope (Mammut super-dry) with rope bag
- 1 nut key
- everything else (shoes, helmet, harness, etc.)

Any advice on the above?
I haven't thought about buying any cams/friends yet. Firstly because I am not that confident in using them, and secondly because they're pretty expensive. Given that I am mostly doing S/HS maybe VS on trad (at the moment), I thought they are not a necessity right now. What do you think?

Any other advice on the above?

Anyway, my resolution for the spring/summer is to get out more, either trad or sport climbing. I don't have a very regular partner at the moment and it would be good to find someone committed to learning more. Maybe somebody at a similar stage to mine, so we can learn and progress together. Anyone from around Horsforth/Leeds that wants to get out to Almscliff, Ilkley or the Peak ?

I'll post in the partners forum too.

Sorry for the long post, but it is my style

Tommaso.
In reply to
tom.dodo: Hi Tommaso. I was going to suggest the club but then realised it's you!
In reply to
RJP:
Well the club seems to be quite partnered already, but I'll post there as well.
I've been trying to work out what RJP stands for, but your profile is a bit scarce, it's a bit late at night and I've ran out of clues. Any hint? It'll probably be embarassing once you disclose it :P
In reply to
RJP:
Oh, I had an illumination just after I clicked "Submit Message". Rich "Land Rover" Pooley?
Haha, I didn't know you were on here and that you climbed much. Good to know. So, what about the above then?
In reply to
RJP:
Also, the thing is: sometimes I think I'm a bit old and ancient for the club these days. Or maybe it's just me being self-deceiving!
In reply to
tom.dodo: Yes it's me! And no your age isn't old given the age of other people still involved!
Anyway, I'll be honest that I'm probably of no great use yet to you. I'm very much still the beginner in climbing, although I have done indoor bouldering for a brief while now.

In reply to
tom.dodo: hi Tom i'm horsforth Based too and it looks like i climb at a similar Level although i've been Doing it for a Bit longer. Also have a Small range of people to climb With and always in lookout for new people to go out climbing with. EMail me if you fancy Meeting up at a wall or outside sometime. Giz
---
This topic has been archived, and won't accept reply postings.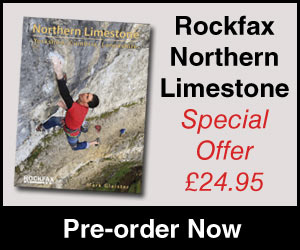 Elsewhere on the site
Perhaps the perfect Xmas gift for the climber in your life... Wild Country's Crack School has two of the worlds best crack... Read more
141219
0
On Saturday 13th December Greg Boswell and Guy Robertson kicked off their Scottish winter season early by making the... Read more
141218
0
F ounded in 1993, Mountain Hardwear are a pretty young mountaineering clothing and equipment manufacturer but are also one of... Read more
141216
0
The release of Peter Jackson's new film The Hobbit: The Battle of the Five Armies on 12th December may not appear to link to... Read more
141212
0
Rock shoes stink – let's face it. Boot Bananas are the perfect way to fight the funk and keep them fresh. They help... Read more
141219
0
---