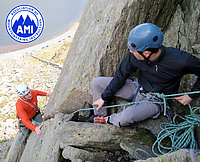 26th August - 29th September 2013

3rd March - 6th April 2014
£1995 per person (inc. accommodation​)
A high quality, low ratio five week course - gaining you valuable knowledge and experience.
Spend four weeks with us in Snowdonia gaining high quality experiences in the mountains. The fifth week is for ML and SPA training (if appropriate). You will also gain an NGB recognised first aid qualification.
With a maximum of 6 participants, we will often be working on a ratio of 1 instructor to 2 clients. This will enable us to offer you exactly what you want and need to progress, both personally and professionally.
You will spend Monday to Friday with us, covering the skills needed for rock climbing (single and multi pitch), scrambling and general hill skills (eg navigation).
Weekends will be your own, and you can spend your time enhancing skills or discovering the area.
Please note - due to the aims of this course, it is expected that you will provide your own personal kit, including harness & helmet (we will provide ropes, etc). We can help and advise with any specific purchases, contact me to discuss this further.
Please contact me to discuss your specific requirements.
http://www.timharropmountainactivities.com/#!mountain-month/c109w
Click
tim@timharropmountainactivities.com
phone 07976 966910