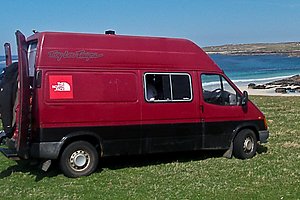 1999 LWB hightop Ford Transit Campervan
2.5 Diesel Engine, 5 speed
127k Miles
MOT until Oct 2013
Taxed till Sept 2013
2 previous owners
Based near Inverness
• The campervan was previously used as a mtn bike team support vehicle, it has been professionally insulated, ply lined and has carpet upholstered walls and ceiling, laminate floor.
• High ceiling easily allows standing and large gear garage (can fit 5 mtn bikes!) keeps all gear separated the living area.
• Has a raised double bed compartment and a single bed.
• Leisure battery, USB and 240volt sockets and mains hook-up.
• Sink, 2-hob gas cooker and 12v refrigerator box.
• Side chest and 4-drawer storage in living area.
• Eberspatcher Diesel cab heater installed (requires servicing).
• Awning allows larger area for evening chilling or gear servicing
• 4 fully belted passenger seats
Overall this is a great fully featured campervan ideal for weekends out or longer holidays in the mountains. The van is spacious enough for 3 to sleep comfortably and will provide a great base camp vehicle for bigger trips with people camping outside. For its age it has a low milage as was used as a workies tea van in its first 8 years of life – the engine has plenty of life left in it!
Pictures of the interior can be viewed at
http://www.flickr.com/photos/95352185@N02/
If you would like any further information or would to arrange a viewing, please call Neil on 07734058003 or 01808521288 (email: neil.mackenzie@roslin.ed.ac.uk)
£1200 ono