| | |
| --- | --- |
| | / Polzeath Bouldering? |
This topic has been archived, and won't accept reply postings.
I've been spending alot of time around the coves of polzeath recently and have found a nice arch and some overhanging walls for traversing. I'm almost certain this must have been climbed before.

There is alot of scope for long traverse linkups and easier-medium problems all around this area. Does anyone have information on any known problems or topos, etc
In reply to
nath_casper:
There's some details of a couple of problems on this page
http://www.javu.co.uk/Climbing/News/NewsArchive/2010News.shtml
As you say most of it will have been done before, nothing documented as far as I know but if you head out there at about 6am on a weekday you'll probably bump into the local guru Max having a pre-work session - he knows all the problems there.
In reply to
nath_casper: Went on holiday ther last year and took my climbing kit with the intention of doing some climbing on pentire point. My partner wasn't up to the commitment of abseiling in so didn't get the chance. Did have a potter round on the rocks in a bay to the left of the main beach and found some alright problems. A lot of the rock is just chossy shit though
In reply to
Bodiggo:
It sounds like this max character is the guy to speak to? Interrestingly I don't think I even been to the northeast side where JAVU talks about the harder problems. I'll have to check these out next week.
In reply to
nath_casper:
I wouldn't recommend polzeath itself, the rock can be quite friable and landings poor. Nevertheless there are good areas nearby. Bodmin moor, Zennor cliffs (more for routes actually) and may be the otherside of Padstow

In reply to
nath_casper: The guy who put up most the lines around polzeath is Tom Newberry ive spoken to him on UKB a couple of times and he's probably the guy to ask... as far as a formal guide, there wasn't one when i looked last year (~August time)
You're right theres a lot of potential, just needs developing and making... Unfortunately I'm not down there much at all this year so can't help with making one :(
---
This topic has been archived, and won't accept reply postings.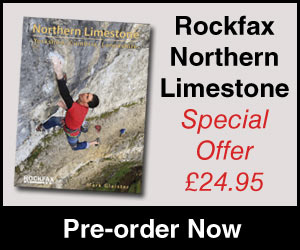 Elsewhere on the site
The release of Peter Jackson's new film The Hobbit: The Battle of the Five Armies on 12th December may not appear to link to... Read more
141212
0
Steve Dunning has made what is likely the tenth ascent of The New Statesman, the classic and bold gritstone arete at the Cow... Read more
141216
0
F ounded in 1993, Mountain Hardwear are a pretty young mountaineering clothing and equipment manufacturer but are also one of... Read more
141216
0
This years ROCfest will be slightly different. We've decided to run a Climbing Festival, not just a competition! Over... Read more
141216
0
Climbing Technology's range of winter hardware continues to grow and for winter 2014 they have a crampon in the range to... Read more
141217
0