View latest messages in My Forums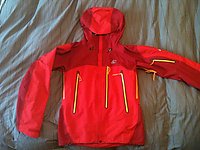 I bought this at christmas and have only used it a handful of times to walk to work in. Has never been used for it's real purpose (all the gear, no idea....blah blah blah)....recently picked up something more appropriate to walk to work in! Excellent condition. No big marks and is very clean. Could almost pass as new.
Feel free to ask any questions but I'm going to assume anyone reading this already knows what the jacket is and does and therefore won't bother writing about the features. Here's a link to the jacket on the ME site:
http://www.mountain-equipment.co.uk/the_gear/clothing/waterproof/tupilak_ii_jacket_---564/
£175........almost half price.
Paypal and royal mail recorded or cash upon collection. Can email more pictures upon request.
Ta.
In reply to
Ghunt1985:
Based in Finsbury Park, North London if interested in collection. I'll also be in Leeds next week if that's any good too?!
In reply to
Ghunt1985:
Please send me contact details. I'm looking to buy this jacket buit would like to try it on first.
---
My Forums