| | |
| --- | --- |
| | / Octavia Estate driving, mountain biking UKC'ers... |
This topic has been archived, and won't accept reply postings.
... That's just about everyone, right?

I haven't got a suitable bike rack, and I don't want to damage my shiny new car, any recommendations for best way of carrying 3 bikes?

In particular, is the high level carrier that Halfords are selling at the moment for £49 any good?


In reply to
Rob Exile Ward:
Halfords and £49 suggest not good.
Try Saris racks.
In reply to
Rob Exile Ward:
I've got one of them... I've had three bikes on it but i can't say as i was particularly happy about it; parking sensors don't work anymore, visibility is buggered due to bikes covering the rear window and poking out the sides so wing mirrors aren't great, fuel economy goes through the roof and i'm always paranoid about straps working loose and people pinching bikes. In addition, even though it's mounted high, it still obscures licence plates so you're supposed to have an extra board with lights and plates.
I chuck bikes in the boot with wheels off and if there's more than one, i pad out the metal-on-metal contact with karrimats. there's enough space in my octavia saloon for two bikes, plus two riders and a dog...
In reply to
Rob Exile Ward:
Towbar and Thule. It'll cost you, but definitely worth the investment.

In reply to
Rob Exile Ward:
We have a very large dog that travels in the boot of our car (which is an octavia estate) much of the time, so we went for putting bikes on the roof. I originally bought a thule roof rack that was designed to fit a megane estate and luckily it also fits the skoda. We then fitted 2 thule freeride bike racks to that. I'm not sure if there is enough width to get 3 bike racks on the top but I think you probably could if you put one facing backwards. I've never had any concerns about anything coming loose and it all locks together and then locks to the roof rails (some cheaper roof bars/bike carriers are only done up with screws or bolts so would be extremely easy to remove). Obviously anyone really determined could probably get the bikes off the roof but it would take some effort I think. Very easy to get the bikes on and off (if you have the keys!). The downside is it cost about £200. The Roofbox Company in Sedbergh (and online) were very helpful when I needed to get the correct thing ordered and delivered really fast.
---
This topic has been archived, and won't accept reply postings.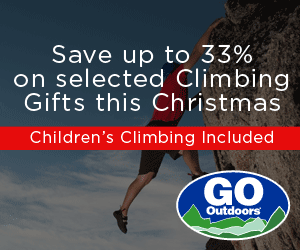 Elsewhere on the site
Rock shoes stink – let's face it. Boot Bananas are the perfect way to fight the funk and keep them fresh. They help... Read more
141219
0
Perhaps the perfect Xmas gift for the climber in your life... Wild Country's Crack School has two of the worlds best crack... Read more
141219
0
The release of Peter Jackson's new film The Hobbit: The Battle of the Five Armies on 12th December may not appear to link to... Read more
141212
0
Tonight's Friday Night Video features the Norwegian town of Rjukan, once believed to be the home of the world's tallest... Read more
141219
0