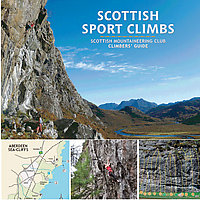 Scottish Sport Climbs
● From the Scottish Mountaineering Club, written by 18 of the leading Scottish sport climbers
● 100+ crags, from the Central Belt to Shetland, and
Arisaig to Aberdeen, including 1300 routes (something like that, I havenít actually counted them)
● Routes range in grade from 3 to 9a
● Illustrated throughout with action photos for each main crag, easy-to-use maps and photo diagrams, and a colour-coded route grading system.
● Paperback in landscape format, 210x150mm in size; 344pp; 100 colour action photographs; 47 maps; 120 diagrams; RRP £28
Scottish Sport Climbs
Note from author
Andy Nisbet
:
My experience of Scottish sport is very typical: in the 1970ís and 80ís I did loads of trad climbing and sport never crossed my mind. In the late 1980ís there was plenty of controversy over sport v trad on Upper Cave Crag and Tunnel Wall but the routes were way too hard for me so I adopted the then default position of disinterested disapproval of sport climbing. Then I started going to the Spanish Costa Blanca, increasingly through the early 90ís but still did no sport climbing in Scotland, although this was partly because information was kept low profile to discourage the potential debolters. I still hadnít done any sport climbing in Scotland when at a Scottish Mountaineering Club (SMC) meeting a few years ago, it was asked if anyone was willing to take on a part finished sport guide. I like working on guidebooks and had just finished with Cairngorms so I said yes. Perhaps those more involved with sport didnít want to ďstick their heads above the parapetĒ but I didnít realize there was one and in retrospect it was crumbling anyway.
It was Joanna Georgeís original proposal that the SMC produce a sport guide and she had organised a number of local expert authors who had written up the crags. That was good; I didnít have to worry about grades and route descriptions. But there were now a fair number of new crags and it seemed best just to get the bolter to write up his own crag. So that increased the number of authors to 18, administratively quite difficult but all the local knowledge was available.
While Scotland is best known for its mountain crags, the popularity of sport climbing in Scotland has increased tremendously in the last 10 years, especially with the increasing use of climbing walls. Sport climbing has a wider audience than traditional climbing; done for training, for a family-friendly climbing day, and to salvage a rainy weekend intended to be spent in the mountains, as well as just for fun. This is the first comprehensive guide to sport climbs across all of Scotland, and includes recently developed dry-tooling crags.
The guidebook should be available at all good climbing and book shops from the end of April 2013.
Keep in touch with developments on all the Scottish climbersí guides by following us on Facebook
http://www.facebook.com/SMCGuidebooks
and on Twitter
http://twitter.com/@SMCGuidebooks