| | |
| --- | --- |
| | / Font Wild Camping |
This topic has been archived, and won't accept reply postings.
Wild camping in Fontainebleau, is it allowed? If yes, then where? Does anyone with previous experience have any advice for camping in Font?
Hi Daniel,

we usually stay at the bivouc site at Bourron-Marlotte, about 5km from Fontainebleau. It's free, usually more or less clean and has drinkable water and some hirrble toilets... Some small shops in the village nearby.

There is one other "official" bivouc site, but i've never been there. A lot of people are simply camping at the parking lots, e.g. in Trois Pignons - seems to be tolerated in low season, I wouldn'd try this on bank holidays.

Try bleau.info for more!
In reply to
DanielGyi: No it is not allowed in the forrest. Do people do it?, yes they do. Does the forestry wardens give wild campers a hard time? Depends on how they are feeling.
Due to environmental impact of all the people wild camping in the forest as well as it being an eyesore it would be appreciated if you would use the FREE bivy spots if you do not want to pay for camping.
The one in bourron marlotte is a good one. There is at least one other thread already on UKC which lists all of them.
In reply to
swoe:
The other official bivouac site is near the race course by the Rochers St Germain, you follow the access road to the race track and the area of grass is on the left after 500m. No water or facilities and reserved for overnight camping, not long stays officially anyway. Beware of thieves too, best not to leave valuables in a tent.
As for the forest as a whole, "wild camping" is prohibited but if you are discrete and take your tent down in the morning they aren't going to lock you up. There are many modified caves that witness the old habit of Parisian clumbers going there for the weekend, around the Trois Pignons there are several with chimneys even but this is no longer allowed - lighting fires is definitely frowned upon for obvious reasons.
In reply to
DanielGyi:
Well a couple of times at the Trois Pignons / Cul de Chien area I've seen park wardens/security coming out to the boulder-field in their jeep and patrolling around.
We were just bouldering late into the evening, but they asked if we were intending to camp there, in a way that suggested it was NOT allowed.

In reply to
Simon Preuss:
> in a way that suggested it was NOT allowed.

It isn't allowed, as two posters have already said :-)
But it's France, so if no one sees you.... For those who worry, or want peace of mind there is a camp site right next to the Trois Pignons, you can walk to the Gorge aux Chats in about two minutes from it.
---
This topic has been archived, and won't accept reply postings.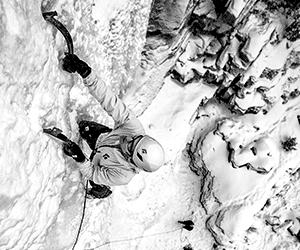 Elsewhere on the site
Tonight's Friday Night Video features the Norwegian town of Rjukan, once believed to be the home of the world's tallest... Read more
141219
0
Rock shoes stink – let's face it. Boot Bananas are the perfect way to fight the funk and keep them fresh. They help... Read more
141219
0
Perhaps the perfect Xmas gift for the climber in your life... Wild Country's Crack School has two of the worlds best crack... Read more
141219
0
F ounded in 1993, Mountain Hardwear are a pretty young mountaineering clothing and equipment manufacturer but are also one of... Read more
141216
0
The release of Peter Jackson's new film The Hobbit: The Battle of the Five Armies on 12th December may not appear to link to... Read more
141212
0