| | |
| --- | --- |
| | / Kalymnos Coaching Workshop - Last Few Places |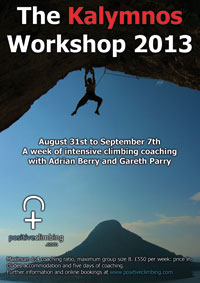 Just three places are remaining on the 2013 Kalymnos Workshop with Adrian Berry and Gaz Parry.
This week-long coaching holiday is specifically for climbers wanting to make rapid gains, technically, tactically, and psychologically. Through ten at-the-crag workshops we will present and demonstrate the skills that lead to success in climbing. Numbers are kept low (maximum groups size is 8) to allow for individual needs to be catered for through 1:1 coaching. By the end of the week we expect you to have made huge progress in your climbing - specifically sport climbing, but you will feel the benefits in whatever style of climbing you prefer.
The cost of the trip includes hotel accommodation, and detailed travel information is provided.
To get the most out of the trip we suggest you are able to lead grade 5 at a minimum - though we don't expect you to be at that level for long - last hear one client went from 4+ on rock to 6c during the week. You need to have the basic safety skills required to sport climb, and you need to bring your own gear.
Here's the feedback from the 2012 trip:
"The coaching was perfect. Not all top performers can convey the knowledge they have but I felt that you provided concise but eloquent coaching with a fair proportion of humour that made the sessions very enjoyable."
Wayne
"I am so pleased with everything I did on the trip, I feel in some ways that Carpe Diem was the climb of my life - I have never felt any climb easier - it just came! I can't explain it! It just came!"
Lars
"I think you and Gaz work well together as a team and have slightly different styles which really complement each other. You're both very astute when it comes to watching someone climb and being able to give accurate and constructive feedback and suggestions."
Cat
"It was a fantastic trip, possibly the best I have ever been on, and certainly the best coaching trip."
Lucy
"Thank you for a fantastic opportunity. I think I'm still on a high."
Pamela
"Coaching was excellent. The very different personalities and approaches of Gaz and Adrian makes a perfect combination."
Kate
"Would definitely recommend the course to friends. Thanks for an excellent week."
Charlie
Book Online
Dates: August 31st to September 7th
Price: £550
Full information and online bookings at:
http://positiveclimbing.com/climbing_coaching_holidays/kalymnos_coaching_holiday.html
---

Elsewhere on the site
Outside's BIG WINTER SALE is now on! We've got up to 45% off selected waterproofs, softshells, fleeces,... Read more
141226
0
Tonight's Boxing Day/Friday Night Video features gritstone climbing in Staffordshire - what better way to get motivated for... Read more
141226
0