| | |
| --- | --- |
| | / FS: full trad rack inc. shoes harness etc. |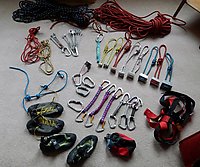 Ideal starter trad rack for sale. all items are used, condition variable but generally excellent. £220 for all gear (preferred), or priced individually as below:
Having a clearout of duplicate items.
All prices are negotiable and postage is not included.
Link to a gumtree ad for more photos.
http://www.gumtree.com/p/for-sale/ideal-starter-climbing-trad-rack-220-for-all-or-priced-individuall...
2 x 50m half ropes - good condition, light use, no factor 2 falls - £45 for pair, £25 each
1 x Troll climbing harness - £15
1 x Chalk bag - £4
7 x Quickdraws - 5 x 18cm, 1 x 12cm, 3 x 6cm various makes - (one more 5cm found since picture) £30 for all 7, or £5 each
1 x pair Boreal bouldering shoes - size 7 - £20 - toes as new, very little wear
1 x pair Scapa shoes - size 8.5 - £20 - toes as new, very little wear
various Ab tat (the blue, yellow and red cord) - £5
2 x HMS screwgate carabiner - £9 or £5 each (will throw in old school belay for free if you buy both)
2 x screwgate carabiner - £5 or £3 each
1 x half rack of 4 small nuts plus carabiner - £15
1 x full rack of Wild country rocks on wire, basically brand new + carabiner - £40
1 x full set of 8 hexes on rope - £35
Disclaimer: i would be more than happy to climb on all this gear (and have, just have duplicates now having lucked out with a climbing boyfriend), however i offer no warranty for any of this gear, and you climb entirely at your own risk.
In reply to
freyja:
ropes and Boreal shoes now gone. Everything else still available.
In reply to
freyja: Are the quickdraws still going? Any chance all in postage inc for £30?
In reply to
Leo Woodhead:
Hi Leo. Sorry, I didn't see you reply here, but they are promised to someone local already. They are picking them up on Monday, if that falls through, I'll get in touch if you're still interested.
In reply to
freyja:
SOLD: all shoes, ropes, a set of rocks, provisionally qds.
Still giong: half set of nuts (I think we now found enough to make a mixed and matched full set of nuts), set of hexes, some screw gate carabiners, tat, chalk bag, climbing harness (this one is a bit basic, I'd take £10 posted or smth like that, perhaps include free with another purchase). If you want to buy something and want tat/chalk bag similar items as extra gifts, just ask :)
---
Elsewhere on the site
On Saturday 13th December Greg Boswell and Guy Robertson kicked off their Scottish winter season early by making the... Read more
141218
0
F ounded in 1993, Mountain Hardwear are a pretty young mountaineering clothing and equipment manufacturer but are also one of... Read more
141216
0
This years ROCfest will be slightly different. We've decided to run a Climbing Festival, not just a competition! Over... Read more
141216
0
The Epicentre Mega Winter Sale starts in store 9am Christmas Eve. We have a great selection of in store only deals from... Read more
141218
0
The release of Peter Jackson's new film The Hobbit: The Battle of the Five Armies on 12th December may not appear to link to... Read more
141212
0