| | |
| --- | --- |
| | / Via Ferrata French Alpes |
This topic has been archived, and won't accept reply postings.
Hi!

Hoping someone can help me out here. I'm going to Morzine in a couple of weeks time and am looking for some Via Ferrata routes within a hour or so's drive.

I can't find any good English descriptions of routes or topos online...

I would like a mix of easy (to start to week) and slightly harder routes.

Any help would be great!

Cheers,

R







In reply to
Rob Halliday: Er, you don't really need a description of French via Ferattas, they are very well equipped and easy to follow if you can find the start. Grades are quite reliable (and normally consistent within themselves), so once you are used to what is what, you can rely on the topos. You will also frequently find signposts showing the routes at the location, including the descents.
P.S. do NOT imagine that a few slings makes an adequate substitute for proper via Feratta kit, it doesn't. Either buy or hire the proper setup.
In reply to
Rob Halliday:
There is one in la chapelle, in the Abondance valley about 45 mins drive from morzine over the col de corbier. It's in 3 stages and info/kit can be got from the pizza de via ferrata, look out for the shop on the left as you drive up the valley. Not sure what the grades are but each stage is progressively harder and its escapesble after each one

In reply to
Rob Halliday:
I did the Clusaz one this trip just gone, and have done the one at Passy a few times. Both steep and slightly more technical than your common-or-garden Italian VF's, but easy enough if you climb.
Make sure it's dry on the Clusaz one though, as there's a lot of seepage, and the wet limestone gave my son and our inexperienced pal the jitters!thing though. The D+ overhang is strenuous, but only a few moves, so don't bypass it.
Lovely walk off, marmotte central!
---
This topic has been archived, and won't accept reply postings.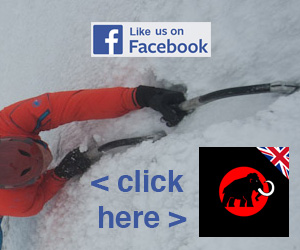 Elsewhere on the site
F ounded in 1993, Mountain Hardwear are a pretty young mountaineering clothing and equipment manufacturer but are also one of... Read more
141216
0
The Epicentre Mega Winter Sale starts in store 9am Christmas Eve. We have a great selection of in store only deals from... Read more
141218
0
On Saturday 13th December Greg Boswell and Guy Robertson kicked off their Scottish winter season early by making the... Read more
141218
0
This years ROCfest will be slightly different. We've decided to run a Climbing Festival, not just a competition! Over... Read more
141216
0
At a bar in Llanberis an old man chimed in And I thought he was out of his head Being a young man I just laughed it off When... Read more
141203
0