| | |
| --- | --- |
| | / La sportiva cobras or pythons? |
This topic has been archived, and won't accept reply postings.
I've been wanting to get a slipper cus i mainly do gym climbing and i was debating between the two. I heard that the python is a revamped version of the cobras and most say it performs better (?) My problem is my local shop only has the cobras and if i were to but the pythons, i'd be buying it online/ i wont be able to try them on. What do you guys suggest?
In reply to
CallumKX: oh and if there is a difference in performance between the two, could you guys please explain?
In reply to
CallumKX: The fit of the shoe will be much more important then the model, maybe even more so with a slipper because you have no straps/laces to adjust.
Wouldn't worry to much about what other people say is better, you just need a shoe that works for you.
In reply to
CallumKX: Where sells Sportiva Cobras in the UK? Didnt think they did them over here anymore?

In reply to
CallumKX: I went through Muiras, then at the moment have a pair of both Pythons and Cobras. There doesn't seem to be much in it for performance, except that the Cobra is so streamlined, and maybe has a slight advantage smearing. However for me the fit of the Cobra is better than any other boot I've come across, but I suspect this is morpho. Going 2.5 sizes down from my training shoe size gives a well filled toe box. The big up for me with these shoes is that I don't get an inflamed or sore Achilles from aggressive sizing.
Consequently, I'm buying up pairs from
http://www.telemark-pyrenees.com/en/lasportivacobra-p-522.html
Currently selling at 59 Euros
As soon as you've nailed your size in Sportiva, they seem reasonably consistent across Cobra/Python/Muira/Testarossa
---
This topic has been archived, and won't accept reply postings.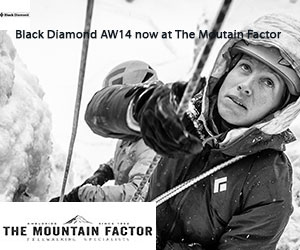 Elsewhere on the site
Perhaps the perfect Xmas gift for the climber in your life... Wild Country's Crack School has two of the worlds best crack... Read more
141219
0
Rock shoes stink – let's face it. Boot Bananas are the perfect way to fight the funk and keep them fresh. They help... Read more
141219
0
The release of Peter Jackson's new film The Hobbit: The Battle of the Five Armies on 12th December may not appear to link to... Read more
141212
0
F ounded in 1993, Mountain Hardwear are a pretty young mountaineering clothing and equipment manufacturer but are also one of... Read more
141216
0
Tonight's Friday Night Video features the Norwegian town of Rjukan, once believed to be the home of the world's tallest... Read more
141219
0