I have a friend about to visit from America - hopefully one who doesn't read this forum - who is keen to complete his collection of Hard Rock ticks, and the above is missing from that collection.
Now I have virtually zero experience of aid climbing, but I have an idea, based on a rather stressful ascent of Benny, that I might be quite rubbish at it. And I once looked up at the eaves of SS, in about 1983, and they looked dripping, loose, uninviting and altogether the sort of place where pegs might rot very quickly.
And I can't say I find this:-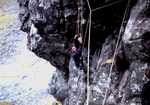 http://www.ukclimbing.com/images/dbpage.html?id=108069
terribly encouraging either.
I'll be sending my friend up first, of course, so to a certain extent if the pegs come out that's his lookout, but even so.
So how bad is it? Might it be the sort of thing a hamfisted punter might be able to get his arse up without too much in the way of mad aid skillz? Or should I make my excuses? I'd like to oblige my friend, but there are limits.
Alternatively, is there any way of outflanking this thing? I know you can now do a free start to Mynedd, but I'm uncertain of the geography - would that work for SS? I know you can climb the initial overhang of SS itself free, but let's say we rule that out.
Of course, with any luck Cloggy will be shrouded in driving rain for the whole of my friend's visit, but I want to be prepared in case of an Indian summer.
jcm