| | |
| --- | --- |
| | / Need new bouldering mat . . |
This topic has been archived, and won't accept reply postings.
Hi I need a new mat. I like the look of the new snap wrap but as it's just come out I can't find any feedback. There is a review on the outside website, but the mat is expensive so I wondered what other people thought before I take the plunge. I'm also interested to know what people think about the 'variable cushioning' it has.

I also like the look of the edelrid crux and dead point. Any body got any feedback on these?

Oh, and one more, anyone got one of the organic crash pads? They look to be made in US to order, anyone tried one and is there a stockist in uk?

Cheers
In reply to
rw42: I've got a Snap Bun and a Wrap. I've been really impressed with the Wrap. Well made, large coverage and 15cm thickness. It feels really soft at low velocities like sit starts and low roofs and firms up nicely landed on from highball.
Overall, 10/10. I have been teaming it up with the Bun, and I think the bun spreads the impact well at mid velocity. It's an expensive mat. However I bought mine off the Internet from a shop in Paris for 239euros including delivery. Can't find the address at the moment, but there are other outlets in Germany.
Outside are stocking them, so it might be a good idea to drop by and check it out.
Paul
In reply to
paul__in_sheffield:
Thanks Paul, funnily enough I have a snap bun too which has been great but foam a bit soft after lots of use, hence new mat.
What's the wrap like to fall on from somewhere between sit start and highball, say with feet between 4 and 6ft up?
Cheers
In reply to
rw42: prob best of the bunch, particularly off roofs at that height onto your back. I always found (for example) the Moon Saturn to be a bit firm for this.
Did lots of this on Saturday on a project and the Wrap performed well.
Build quality on mine is excellent. The new model looks even better if you can live with bright orange!
In reply to
rw42: Where are you based?
There happens to be a shop down Bristol way that you can currently get a Snap Bun for £110 brand new, (but you might need a to get a local to have a word)
In reply to
Steve nevers: based in bradford, Bristol a bit far, but thanks for heads up.

In reply to
paul__in_sheffield: cheers Paul think you've convinced me to get the wrap!
---
This topic has been archived, and won't accept reply postings.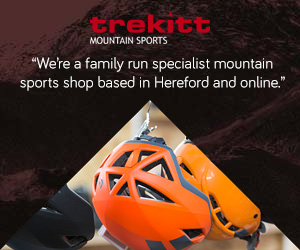 Elsewhere on the site
Rock shoes stink – let's face it. Boot Bananas are the perfect way to fight the funk and keep them fresh. They help... Read more
141219
0
Tonight's Friday Night Video features the Norwegian town of Rjukan, once believed to be the home of the world's tallest... Read more
141219
0
The release of Peter Jackson's new film The Hobbit: The Battle of the Five Armies on 12th December may not appear to link to... Read more
141212
0
Perhaps the perfect Xmas gift for the climber in your life... Wild Country's Crack School has two of the worlds best crack... Read more
141219
0
F ounded in 1993, Mountain Hardwear are a pretty young mountaineering clothing and equipment manufacturer but are also one of... Read more
141216
0
---