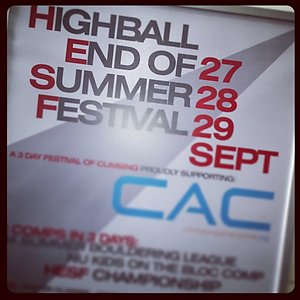 Highball End Of Summer Festival 2013
Proudly Supporting - Climbers Against Cancer
Norwich's Highball Climbing Centre will be hosting it's first climbing festival over the weekend of 27-29 September.
Over the 3 days we'll be hosting 3 climbing competitions: The Final Round of our Summer Bouldering League, Our Second 'Nu Kids on the Bloc' Comp (for adults and juniors climbing up to max V4/6b) , and the 1st Annual HESF Championship!
In addition to the climbing competitions there's a whole timetable of climbing and non-climbing events, including Boot Demos from Scarpa and Evolv, Masterclasses from Ben Bransby and Sam Whittaker and further coaching sessions and inductions from our in house crew. Plus, there'll be Fitness Boot Camps, Yoga, Pilates, Osteopathy, Physiotherapy and Sports Therapy Consultations, as well as workshops and seminars on sports injuries and nutrition, all provided by practitioners from The Highball Clinic.
All activities/climbing sessions/consultations etc. are FREE
.
All we ask is that you donate appropriate monies for each activity you take part in or alternatively, make one donation for the whole weekend and come and go as you please. Together, we're hoping to raise a large sum of money for the fantastic charity, Climbers Against Cancer!
Full details are on our website:
http://highballclimbingnorwich.com/hesf13.html
Competitions Registration:
http://highballclimbingnorwich.com/hesf13/register-for-hesf13.html
If you have any questions, send us an email or give us a call:
hello@highballnorwich.co.uk
t: 01603 513513
Posted with kind permission of UKC