| | |
| --- | --- |
| | / Trains between Scotland & London & return |
This topic has been archived, and won't accept reply postings.
This is a shortened, copied version from a letter to the editor of a north of England newspaper of 21/09/13. I can't be sure of it's accuracy but if it is true, it makes nonsense of the whole idea of improving north south rail services. If southbound trains are reduced, then northbound trains will also be reduced. I have edited a bit but the original complaint is valid. Here it is :-
"The government's recent objective is to spend £80 billion on HS2 between London and Birmingham to save 30 mins. We now hear that to achieve this, train services from Scotland, via Penrith [doesn't that also mean via Carlisle & Glasgow & Edinburgh?] will be reduced from 18 trains per day to 8 & they will go via Manchester & add 1 hour to the journey" I may phone the writer and ask where he got these plans from. (Sorry, bad grammar, should be "from where did he get these plans.)


In reply to
mockerkin: The level of service is independent of the actual construction and doesn't need to be determined for donkey's years yet. This is just another negative press release. As I understand it the document referred to envisaged HS trains from both Glasgow and Edinburgh every 30 minutes, joining at Carstairs then hammering down the West Coast line to gain HS2, missing out almost all of the intermediate towns such as Lancaster which was indeed to be left with a reduced service. When I read that I thought it was completely impractical and designed to pander to the vocal Scottish lobby. I doubt if this service plan will ever be translated into reality but its not a legitimate argument against the construction.

In reply to
silhouette: I whilst I'm banging on, another thing is that the "beyond HS2" trains are intended not to have tilt, which means they'd be slower once they come off HS2, than the current generation; Virgin have drawn attention to this and have pointed to recent Italian high-speed trains which have tilt for when they come off the high-speed line. Again, it's a legitimate concern but its not intrinsic to the project though it'll be spun as if it is.
---
This topic has been archived, and won't accept reply postings.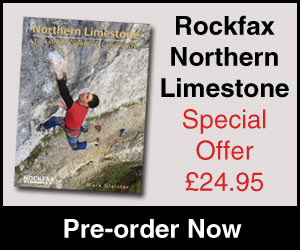 Elsewhere on the site
Tonight's Friday Night Video features the Norwegian town of Rjukan, once believed to be the home of the world's tallest... Read more
141219
0
F ounded in 1993, Mountain Hardwear are a pretty young mountaineering clothing and equipment manufacturer but are also one of... Read more
141216
0
Rock shoes stink – let's face it. Boot Bananas are the perfect way to fight the funk and keep them fresh. They help... Read more
141219
0