| | |
| --- | --- |
| | / Instructor Training Month, with a difference... |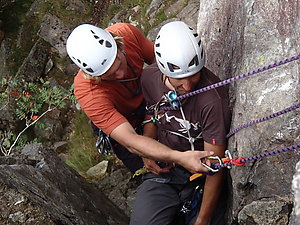 I have been involved with training outdoor instructors for over 5 years and it's something I really love doing.
There are a number of Instructor Training Courses out there these days, but this one is very different to most.
Instead of focusing on many different activities, I focus on what I know best - Climbing and Mountaineering.
Over the month a maximum of 2 clients will join me to work towards their Single Pitch Award training and Mountain Leader Training which are completed on week 5 of the course. (Assessment may be possible if you have already completed the training).
Because of the low ratio, we will cover far more than just the SPA & ML syllabus, over the month you will build your lead climbing skills and become comfortable on Multipitch routes as well as tackling some of N Wales' finest scrambles.
This is not a "zero to hero" course, but by the end of your time with me you will have received a great grounding ready to start on your outdoor career.
Please contact me to discuss any questions that you will undoubtedly have.
Cost - £1495
Dates - Next Course Starts 3rd March 2014
Please visit my website, from where you can contact me with any questions you may have and to receive further info.
http://www.jbmountainskills.co.uk/instructor-training.html
In reply to
jezb1:
Interesting?
No mention of the fact that people will need to have at least 11 months rock climbing and summer hillwalking experience so that they will be able to register for the awards in time to complete the SPA and ML trg.
You seem to imply that anyone can jump in and achieve these awards within five weeks.
The reality is that people cannot even register for the awards and undergo training until they have twelve months relative experience.
If they then have that relative experience why not just register and then do the training courses for a fraction of the price.
Sorry but I have seen endless short term / fast track instructor schemes over many years and most fail to mention that the awards they promise are experienced based awards which require prior experience before registering and going through the schemes.
Richard
In reply to
Richard Bentley: thanks for your reply Richard.
This is just an advert.
People who have expressed an interest have been sent further info outlining the finer points.
My advert would be pretty long and dull if I explained everything, it's just a short intro.
Why do people sign up for courses like this? Many reasons; quality instruction, getting a lot done in a concentrated amount of time are just two.
No need to say sorry, you just didn't have all the info available to you.
Thanks again for taking the time to reply.
Jez Brown, MIA
---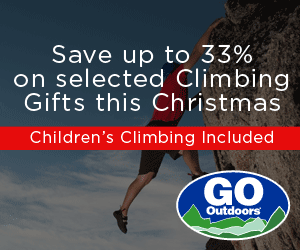 Elsewhere on the site
Perhaps the perfect Xmas gift for the climber in your life... Wild Country's Crack School has two of the worlds best crack... Read more
141219
0
Rock shoes stink – let's face it. Boot Bananas are the perfect way to fight the funk and keep them fresh. They help... Read more
141219
0
With four photos in this week's top ten, and a UKC gallery of stunning images we thought it was time we had a chat with... Read more
141203
0