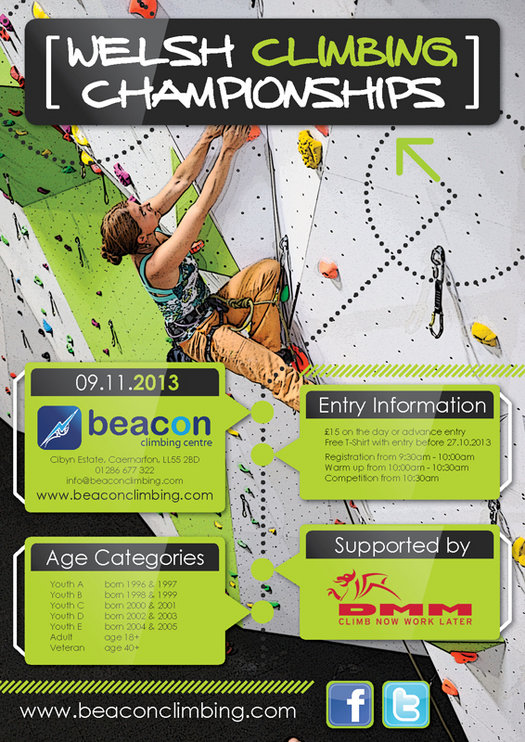 The Welsh Climbing Championships is back for the fifth year running with 2013's event taking place at Beacon Climbing Centre in Caernarfon, North Wales on Saturday 9th November.
The competition is an OPEN event meaning you do not have to be Welsh to enter, and is run in a fun and friendly environment aimed at giving both climbers new to competitions and the seasoned pro' a great day out.
Food is available throughout the day from Caffi Barcud located within Beacon Climbing Centre and the centre offers ample space for spectators.
Download the competition registration form here.
http://www.beaconclimbing.com/shopimages/Welsh_Open_Lead_2013_registration_form.pdf
Download the competition information sheet here.
http://www.beaconclimbing.com/shopimages/Welsh_Open_Lead_2013_info_sheet.pdf
Download the full sized competition poster here (prints up to A2 in high resolution)
http://www.beaconclimbing.com/shopimages/Welsh_Open_Lead_2013_poster.pdf
Entry details...
£15 entry fee on the day or in advance.
Free T-Shirt with entry before 27th October 2013 (please specify your size on page 2 of the registration form).
Registration starts at 9:30am and closes at 10:00am.
Warm up from 10:00am - 10:30am.
Competition starts at 10:30am.
Categories...
There are five youth categories, with separate girls and boys competitions following the IFSC (International Federation of Sport Climbing) system based on year of birth and two adult categories with separate male and female competitions.
Youth A - those born in 1996 & 1997
Youth B – those born in 1998 & 1999
Youth C – those born in 2000 & 2001
Youth D – those born in 2002 & 2003
Youth E - those born in 2004 & 2005
Adult - age 18+
Veteran - age 40+
Competition format...
Each category will climb three qualifying routes of ascending difficulty, with the top 10 climbers in each category then going through to attempt a semi-final route in the afternoon. The top 5 climbers in each category will then battle it out for podium positions on the final route.
Those in youth E and D category will top rope all their routes, whilst the older groups will be expected to lead climb. All competitors will get just one attempt at each route, which will increase in difficulty. A judge will score each ascent, with points being awarded for each hold used during the ascent. In the event of a tie during the semi-final or final, qualifying routes will be used for count back.
Full information at
http://www.beaconclimbing.com/section.php/233/1/welsh-climbing-championships