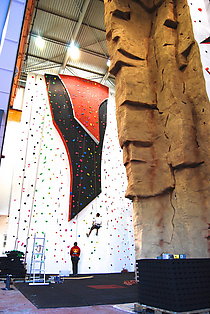 We are going to open 36 lines (25 lead 15 top rope total 88 routes) and one bouldering area at Awesome Walls Sheffield on Saturday 28th September at 10am. The areas to open are the Shetive Slabs, the Awesome Prow, the double overlaps and vertical wall, all these walls are 14.5m
Whilst it's limited climbing you will get the gist of what we've been working on. All walls will be fully open after resetting them following the British Lead and Speed Climbing Competition 5th and 6th October.
Our official opening party will be on Saturday 12th October 2013 where the Lord Major will open the new centre at 10:00. Climbing will be from 10:00 to 20:00 with BBQ and Party to follow.
Please help us spread the word but do mention that it's LIMITED climbing until the official open day!
Many thanks,
Dave Douglas Awesome Walls Climbing Centres Ltd
http://www.awesomewalls.co.uk/gallery/sheffield-gallery