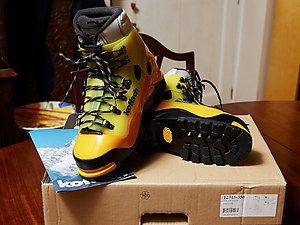 Due to inaccuracies when ordering on-line, I have ended up with too many boots. The following are for sale and photos can be seen by going to the following link:
http://www.castonphotostudio.com/lightroom/UK%20Climbing%20for%20sale
This works best in Firefox or Google Chrome (paste complete link into the browser).
Prices include postage, but you can contact, if you live locally (Somerset)and want to pick up. PayPal payment preferred.
Expedition climbing boots Koflach Arctis Expe: size 7.5 UK. Retail at £349. These are new and absolutely unused at £215
http://www.koflach.com/en/parsepage.php?tpl=tpl_index
Scarpa Omega plastic boots with intuition liners: size 8 UK. These have had one outing in the snow and are in fantastic condition: no noticeable wear on the soles and barely discernible scuffs on the shells. Sell for £105
Boreal Kangri reverse leather boots (2012): size 8 UK. I wore these for half a day only at Plas y Brenin and are, therefore, in excellent condition: no noticeable wear on the soles and no marks on the outside. Sell for £165
Incidentally, I settled on AKU SL PRO GTX for winter climbing and La Sportiva Trango S EVO GTX for other stuff.