| | |
| --- | --- |
| | / Scarpa Typhoon Ski boots |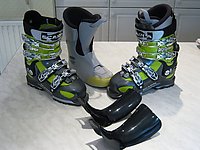 Scarpa Typhoon, size 26.0, PRICE - £250 inc. postage
Bought in a rush before a trip to Chamonix this year where I wanted a boot with a walk mode and touring sole unit but with good Freeride capabilities.
These boots are definitely more Freeride orientated but with the option for getting to more remote places with a greater degree of control and comfort!
Worn for ONE RUN and subsequent walk back to car!!!
I have issues general with my feet with all footwear and ski boots are the worst. Standing in the shop they feel OK, but as soon as I ski with them (correct socks and footbeds being used), I am in crippling agony. These unfortunately were no exception!!
On the trip I ended up buying a pair of new boots from Snell Sports!
Liners haven't even been moulded but I know this will be a waste of time for myself as although they are very painful, they are too big. (I bought a half size up to try and alleviate some of the issues I normally get with ski boots but it didn't stop the pain plus there was now some movement!)
They are intuition liners so they will give a very good precise fit.
As you can see from the photo, the boots are in immaculate condition and come with a walking tongue (more flexible). I have more photos available on request.
Click pjdwyer@hotmail.co.uk if you would like to contact me directly.
Thanks for reading.
Phil
That would be around a uk size 7
(for the benefit of anybody who was confused like I was)
In reply to
Dan Arkle:
It is equivalent to a size 7 yes, but it should be pointed out that the fit with a ski boot is considerably different to that of a normal shoe.
A ski boot has to fit a lot more closely than normal footwear so that the skier's feet don't move around in the boot when they are trying to control their skis.
I take a 7.5 shoe, but I take a 25.5 ski boot which is equivalent to a 6.5 in normal footwear.
In reply to
PHILD:
If only they were a couple sizes bigger :-(
Have a free bump!
---

Elsewhere on the site
Rock shoes stink – let's face it. Boot Bananas are the perfect way to fight the funk and keep them fresh. They help... Read more
141219
0
Perhaps the perfect Xmas gift for the climber in your life... Wild Country's Crack School has two of the worlds best crack... Read more
141219
0
Tonight's Friday Night Video features the Norwegian town of Rjukan, once believed to be the home of the world's tallest... Read more
141219
0
With four photos in this week's top ten, and a UKC gallery of stunning images we thought it was time we had a chat with... Read more
141203
0
F ounded in 1993, Mountain Hardwear are a pretty young mountaineering clothing and equipment manufacturer but are also one of... Read more
141216
0